Violinist Inga Brandini has created a comprehensive timeline illustrating the links between different violin schools and players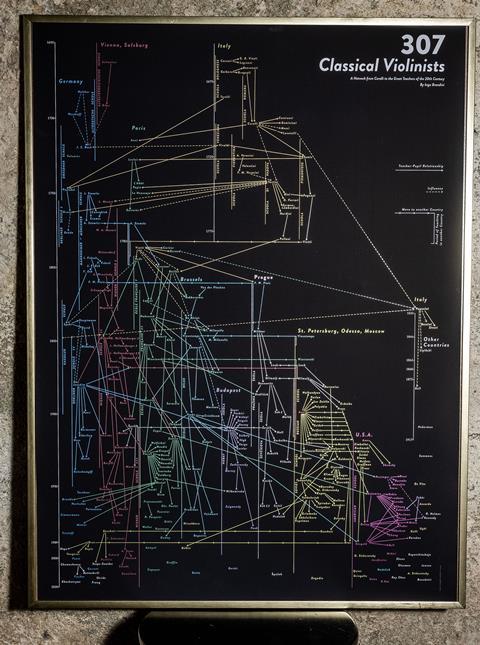 Ever wondered about the links between different violin schools? Or just how many violin virtuosos Ševčík managed to produce? Maybe you've wondered how your musical upbringing is linked to Wieniawski?
Illustrating how the international violin schools have intertwined throughout the centuries, Austrian-Italian violinist Inga Brandini has created a comprehensive network of 307 violinists in history, spanning from the mid-17th century to the present day.
The timeline lists famous violinsts, grouping them into schools of violin playing around the world, including various Italian schools, French, German, Belgian, Russian and eventually American schools of players.
In a chronological layout, the poster uses different arrows and colour-coding to show the teacher-pupil relationship between violinists, as well as significant influence within a school, and emigration to another country. Glancing at the 'family tree' of violinists, one can see several branches stemming from violinists such as Auer, Flesch, Tartini, and how their influences have resulted in modern day players such as Anne-Sophie Mutter, Joshua Bell and Zakhar Bron.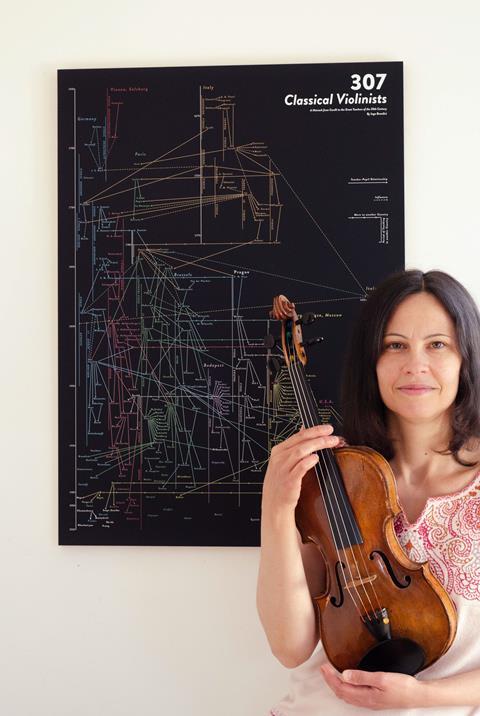 Brandini acknowledges that it was not possible to draw all known teacher-student relationships, but enjoyed the challenge of showing important relationships between players. Brandini told The Strad, 'Thanks to the additional research available on the internet today, it is possible to create a network more precisely than ever before. I hope that this poster will inspire many people to deal creatively with the history of violin playing'
Click here to see the poster up close (and find your teacher!)
Read: Alfred Staar on what constitutes the Viennese School
Read: Perlman on the golden era of the violin school
Read: The Russian violin school is largely misunderstood
Read: Musicologist creates interactive map of female composers