The European Union Youth Orchestra was joined by the ex-monarch after their concert in Amsterdam
Much has been made of a supposed generational divide in reponses to Covid-19, with young people apparently more likely to engage in behaviour that could endanger their health and that of those around them.
Young and old came together this weekend, though, when musicians from the European Union Youth Orchestra (EUYO) performed at Amsterdam's Concertgebouw concert hall with a special guest in attendance.
Beatrix, queen of the Netherlands until her abdication in 2013 at the age of 75, gave a short speech thanking the musicians for their performance of a programme that included Richard Strauss's Metamorphosen, Vivaldi's Concerto for Four Violins RV580 and a new work for percussion quartet by Andy Akiho.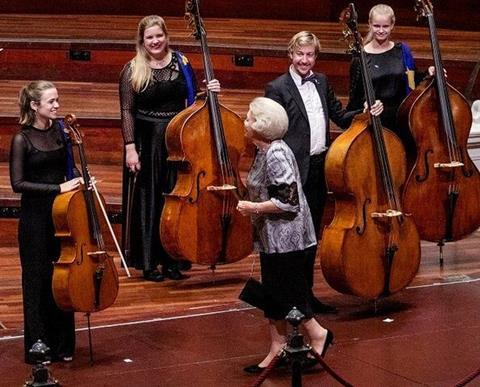 Read: EUYO announces changes to spring residency and tour plans in response to Coronavirus

Watch: Amsterdam Sinfonietta performs in empty Concertgebouw
Read: Concertgebouw concerts cancelled


Neither the former queen nor the musicians wore face coverings, but social distancing was maintained on stage and the 2000-capacity venue has a new limit of 350 audience members, allowing them to keep at least 1.5m apart.
Musicians from the EUYO have been performing in small groups across the continent this summer in their European Music Gallery festival. Many of the concerts are live streamed, with details of upcoming events available on the orchestra's website.