39 instruments and 41 bows now loaned to children aged 8 to 13 through second Con-takt Junior competition organised by Klanggestalten group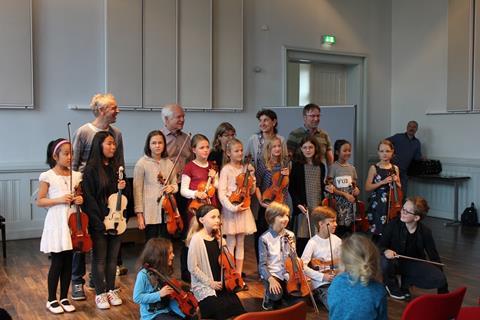 Klanggestalten is a group of instrument and bow makers which started in Germany but now includes members from France, Austria, Belgium and further afield, and has organised an annual exhibition since 1998 to promote the craftsmanship of its constituents.
As part of a broadening of its activities it has just run its second annual Con-takt Junior competition, through which it is lending 16 3/4-size instruments and 17 bows to talented children aged 8 to 13. These are additional to the 23 instruments (violins, violas and cellos) provided last year, most of which have been kept on by their beneficiaries, meaning that a total of 39 new instruments and 41 bows have been lent out by the scheme.
Though a handful of the instruments have been funded by the Hao & Michelle Wang Foundation and the Esther und Silvius Dornier Stiftung, the vast majority are provided free of charge by their makers, who also foot the bill for insurance and maintenance.
The competition is run in cooperation with the VdM (Association of German Music Schools) and the Munich-based Jugend musiziert organisation, and invites applications from music schools and conservatoires across Germany.
The makers involved in Con-takt Junior are: Klaus Grünke, C. Jochen Schmidt, Carsten Hoffmann, Markus Opitz, Haiko Seifert, Klaus W. Uebel, Jean-Pascal Nehr, Jean Severin, Benjamin Hickmott, Pia Klaembt, Jens Paulus, Noel Burke, Andreas Hampel, Dirk Löscher, Dorte Weishaupt-Moinian, Pierre Nehr, Emmanuel Carlier, Stephane Muller, Christophe Collinet, Joh. Tino Lucke, Veronika Dreysse, Andrew Finnigan, Gerald R. Knoll, Peter Erben, Susanne Riebesehl, Robert Pierce, Mira Gruszow, Michael Dölling, Rüdiger Pfau, Paul Belin, Burkhard Eickhoff, Gideon Baumblatt, Konrad Stoll, Gaspar Borchardt, Thomas Bertrand and Bärbel Bellinghausen.