Sources say that Stasevska would never have the 'arrogance' to demand changes to the patriotic songs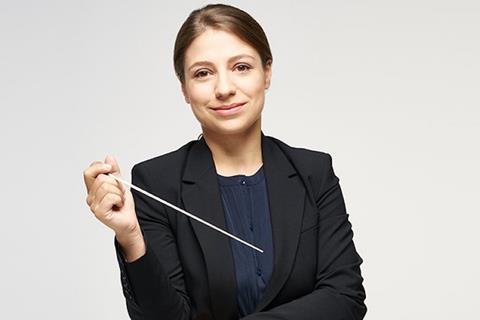 Dalia Stasevska, the conductor who was blamed earlier this week for the controversy over this year's Last Night of the Proms has issued a public statement, while her friends insist that she was not behind any decision to drop Rule, Britannia!.
Reports from 'BBC sources' last week suggested that both Rule, Britannia! and Land of Hope and Glory might be dropped from the programme at Stasevska's request due to their historical links with colonialism and slavery.
But a spokesperson for the Proms has now said: 'The programme of Last Night of the Proms was the BBC's decision. As such, Dalia Stasevska should not be held responsible…Of course people can choose to debate the artistic decision the BBC made during a pandemic, but what isn't right is to make personal attacks on artists.'
Sources close to Stasevska have told The Daily Telegraph that the 35-year-old Finnish conductor would never have had the 'arrogance' to demand changes to this part of the programme. 'From Dalia's point of view there has been a lot of unpleasantness and some of the stuff that has been written is heart-breaking. It is frightening, unpleasant, scary stuff and she can't say anything as she can't be a part of any of that.'
Read: BBC Proms reveals full details of Last Night amid Rule, Britannia! controversy
Meanwhile, Stasevska herself has issued a statement:
'I am so honoured to be part of this year's BBC Proms and its iconic Last Night.
I understand its prominence in the UK classical music calendar and wider cultural landscape. It is incredibly exciting to be part of an event with such long standing tradition.
It is testament to the unfailing work and commitment of the organisers that the Proms can proceed at all this year.
However, in recent days there has been a good deal of inaccurate speculation about my role in determining the format of this year's Last Night of the Proms.
This false speculation has led to abuse and threats towards me and my family which is why I am speaking out.
For the record I have played no role in deciding the traditional elements of the programme, I recognise these are an important part of the event.
I've been wrongly portrayed as a person who tries to influence political debates – this is not true. I am an artist, I want to be able to speak through my work to bring people together and build solidarity.'
A BBC spokesperson said: 'For the avoidance of any doubt, these songs will be sung next year.
We obviously share the disappointment of everyone that the Proms will have to be different but believe this is the best solution in the circumstances and look forward to their traditional return next year.'