The cellist, renowned for both his teaching and playing, had just turned 100.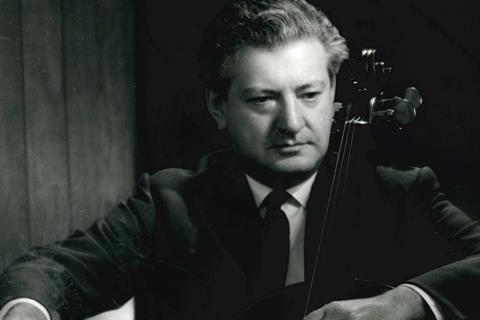 George Neikrug - a renowned cello teacher who was also principal cellist with the Baltimore, Pittsburgh and Los Angeles orchestras - has died, the day after turning 100.
Born in New York, Neikrug studied with the legendary cellist Emanuel Feuermann. 'He was analytic to a great extent,' Neikrug said in a 2000 Strad interview of his time with Feuermann. 'But [he started] at a much higher level than any student would.
Despite his efforts I found that my lessons with him resulted in the feeling that he was great and I was hopeless! I would play something and move my fingers all over the place. Then he would stand up and play something, knocking it off with total ease and perfection. So I felt like a fool all the time.'
Aged 24, Neikrug met D.C. Dounis - a Greek pedagogue, whose revolutionary approach had a profound influence on the young cellist. 'Trying to tell you about Dounis's teaching is like asking me to tell you about a whole science like biology,' Neikrug said.
'Dounis put very much emphasis on the most basic things I did like how I played a down bow and an up bow. He would show me how to play a down bow and an up bow and then I would play through a whole piece and he would sit there and practise with me.
If he caught me doing one thing wrong I'd have to do it over again so I learned this tremendous amount of concentration….I would say that Dounis taught me to play more like Feuermann more than Feuermann did and it's too bad Feuermann wasn't around to see it!'
It was thanks to his studies with Dounis that Neikrug resolved to devote his life to teaching at schools including Detmold, Oberlin, the University of Texas-Austin and Boston University, whose arts faculty he joined in 1971.
In 1960, Neikrug performed Bloch's Schelomo with the NBC Symphony at Carnegie Hall and Leopold Stokowski, who described the cellist's performance as 'unforgettable'.
Neikrug also appeared as a soloist with conductors Leonard Bernstein, Wolfgang Sawallisch, Bruno Walter and Yehudi Menuhin, who said 'I was most impressed with [Neikrug's] profound and accurate understanding of the cello… He is a first-rate musician, and I cannot recommend him too highly.'
In 1995 he received the Artist-Teacher Award from the American String Teachers Association. The following year he was awarded Indiana University's Chevalier du Violoncelle accolade – in recognition of his outstanding lifetime achievement.
Neikrug is survived by his sons, the composer Marc Neikrug and the actor Barry Neikrug.