Winifred Mayes beat 14 men for a cello post in the ensemble in 1957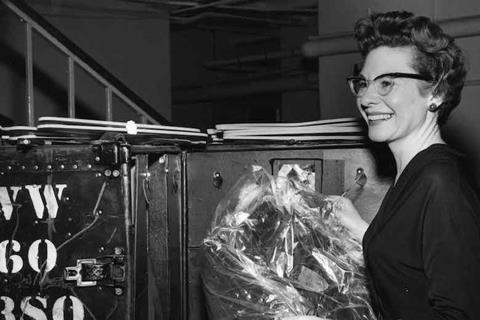 The cellist Winifred Mayes has died at 101. She was the first woman ever to win a position in the Boston Symphony Orchestra's string section - beating 14 men in an audition for a cello vacancy in 1957.
Born in Yakima, Washington, in 1919, Winifred, and her sister Lois were initially introduced to music by their mother – a musician and schoolteacher - who taught them to play the piano. Eventually Lois settled on the flute, while Winifred migrated to the cello.
'I got to play the cello because my mother couldn't stand the idea of a violin being practised, but she thought a cello wouldn't be so bad,' Mayes told the Boston Globe last year.
Following high school, Mayes was accepted at the Curtis Institute of Music in Philadelphia, where she met her future husband Arthur Winograd, the founding cellist of the Juillard String Quartet; their marriage - which produced one son - ended in divorce.
Later she moved to Indiana, where - at the end of the 1940s - she became principal cellist of the Fort Wayne Philharmonic.
It was on Lois's encouragement that she auditioned for the Boston Symphony Orchestra in 1957. 'Winifred thought that it was crazy, and her sister convinced her to go and take the audition,' said cellist Hannah Holman (who met Mayes as a teenager) in a YouTube tribute. 'It was the highlight of her whole life to get that job that day.' Mayes's mother, however, was apparently restrained in her reaction - as Winifred recalled in an interview with the Boston Globe last year: 'there was this long pause as she thought it over. And she said, "Well, that's a step up."'
In Boston Winifred married the cellist Samuel Mayes, who eventually left the BSO to become principal cellist of the Philadelphia Orchestra. Winifred herself would go on to share his desk: she received an offer to become the orchestra's assistant principal cellist position in 1970.
On retiring in her late 50s, she joined her husband in Michigan, where he taught at the University, while she divided her time between performing and teaching. After he died in 1990, she moved back to Washington.
In addition to her son, Mayes leaves two stepsons, William Mayes and Joseph Mayes.
'She is an incredible, humble, groundbreaker,' Holman said in her tribute to Mayes, 'and she, I think, doesn't even really realise all of her many contributions.'