Prizes from the Berlin-based competition for contemporary chamber music go to the Trio Tempestoso and the Nerida Quartet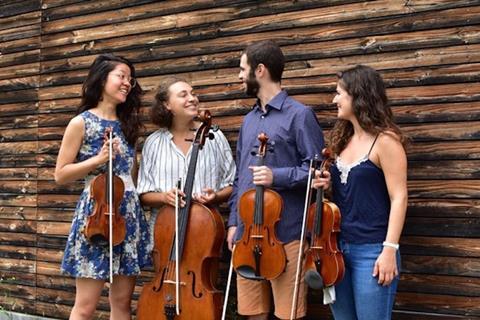 The Boris Pergamenschikow Prize for the performance of Contemporary Chamber Music has been awarded to the Graz-based Trio Tempestoso, who receives €10,000.
Founded in 2017, the Trio Tempestoso performs internationally with a repertoire mainly built upon new music. It consists of clarinettist Andraž Golob, cellist Urban Megušar and accordionist Sanja Mlinarič, who all study at the University of Music and Performing Arts in Graz with Janne Rättyä.
Held every three years at the Academy of Music Hanns Eisler in Berlin, where the late cellist and pedagogue Boris Pergamenschikow used to teach, the competition is open to chamber music ensembles - from trio to nonet - from all music colleges in Germany, Switzerland and Austria, the only stipulation being that each group must include at least one cellist.
In addition to performing one or more pieces from the post-1950 period, the ensembles arrange a lecture on their chosen piece, which places the work in its contemporary historical context and explores its relationship with other art forms.
This year, the €2,000 prize for the best lecture was awarded to the Nerida Quartet, an ensemble founded in late 2018 and consisting of violinists Nevena Tochev and Saskia Niehl, violist Pietro Montemagni and cellist Alma Tedde. Its members study at the universities of Bern, Lucerne, Freiburg and Berlin, and perform concerts throughout Germany, Italy and Switzerland.
The competition concludes tonight with the award-winners concert, featuring - in addition to this year's winners - the two laureates of 2016: the Furiant Quartet, with a new work by Márton Illés; and the trio uBu, premiering a piece by Hui Hui Cheng.
Sitting on this thie year's jury were Axel Bauni, Claudio Bohorquez, Konstantia Gourzi, Lydia Jeschke, Martin Spangenberg, Marcus Weiss and Mariana Alvarez.