The new sessions, running from 28 March to 18 April, will explore the physicality and psychology of playing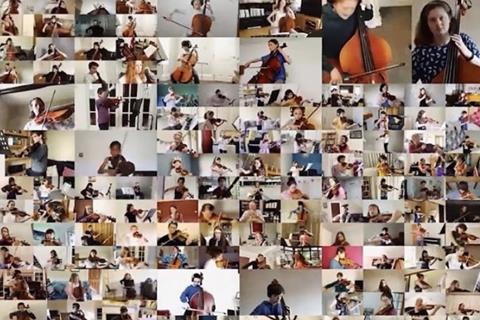 Following the three Virtual Sessions in 2020, the Benedetti Foundation presents a new Virtual Sessions - Building Foundations: Exploring the Physicality and Psychology of Playing.
Running from 28 March – 18 April, the Sessions will help participants to address their physical and psychological foundations and the majority are open to players of any instrument. The sessions are intended to complement participants' individual lessons or group tuition.
Questions to be addressed include: what general state does the body have to be in, in order to play with ease, and experience healthy development? Why play in the first place? And what mindset is needed in order to experience deeper joy?
Read Benedetti Foundation announces New Year Sessions
Read Nicola Benedetti collaborates with father Gio Benedetti to provide mental health support
Read Benedetti Foundation presents the Global Violin Sessions
Read Benedetti Foundation launches the Virtual Benedetti Sessions
The violinist Nicola Benedetti commented, 'These sessions are intended to complement your individual lessons or group tuition and allow you to take time to focus together on 'why we do the things we do' in our playing. Through a series of daily challenges, all carefully designed to be quickly and easily grasped, we will work with participants of all ages and stages to support improvement and understanding of technique by breaking concepts down into a number of smaller categories. If you have not or do not address your entire physical and mental state, it is very very difficult to improve despite your dedication and efforts. We really hope that together in these sessions we can inspire collective development in our physical and mental approach to playing.'
Open to all Instruments
There will be live sessions, improvisation sessions, wellbeing sessions and daily challenges available for any instrument. Participants can join in as often as they want, and each live session will be repeated each day to allow those in different time zones to attend live.
Short daily challenges: hosted on the Benedetti Foundation website, the challenges will explore physicality, mindset, instrumental technique, imagination, creativity and communication.
Live Practice Sessions: join the Foundation's Lead Ambassadors on zoom to practise.
Live Improvisation Sessions: hosted by guest artists on zoom on Thursday, these sessions will explore technique and creativity through improvising.
Live Wellbeing Sessions: weekly wellbeing sessions with the Foundation's partners Intermission – Elena Urioste and Melissa White.
Motivational Monday & Fundamental Friday: Nicola Benedetti is joined by guest artists to discuss motivation, maintaining sustainable focus, and developing fundamentals no matter what stage you are at. These sessions will be pre-recorded and released on Monday and Friday of weeks 2 and 3 of the sessions.
Open to String Players
Live weekend tutorials
Hosted by the Foundation's tutors and guest artists on zoom, these sessions will focus on string technique at all levels with some of the world's greatest musicians and educators.
The sessions will follow on from the weekly challenge videos and look in greater depth at instrument specific technique, as well as exploring the fundamental principles of playing string instruments.
How to choose the right level:
Introductory – ideal for those who have only just begun to play to approximately grade 1.
Beginners – working around grade 2-3
Intermediates – working around grade 4-6
Advanced – working around grade 7-8+
Professional - students studying at conservatoire or university, professional players, non-professional players and young people (recommended age 15+) working at or beyond Diploma level.
Final Celebration: 25 April
On Sunday 25 April all participants will be invited to join together for a live session with the Foundation's ambassadors, tutors and special guests.
The sessions will finish with the premiere of a short film sharing the physical and psychological journey participants have gone through, as well as hearing from guest artists, tutors and ambassadors.
How to get involved
Sign up at here to join in.
The Sessions will be free but with a recommended donation of £20 - 30 per person. Participants are encouraged to give what you can, and no one will be prevented from attending due to financial circumstances.
All of the Foundation's online work is made as accessible as possible, with many of its resources available to all free of charge.
The Benedetti Foundation relies solely on donations to carry out its work and they are very grateful to anyone who is in a position to make an additional donation towards the cost of the workshops.
Join in on social media using the hashtags #benedettisessions #virtualsessions
The Virtual Sessions will all be delivered in English.