Brendel appointed as principal cello teacher and Kam as principal violin teacher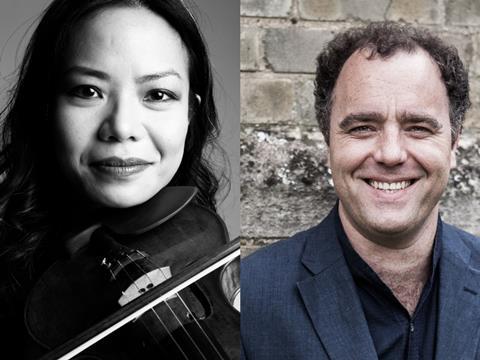 Violinist Ning Kam and cellist Adrian Brendel
British cellist Adrian Brendel and Singaporean violinist Ning Kam have joined the teaching staff at The Yehudi Menuhin School in the UK. The two musicians began in their new roles with the Spring term in January.
Brendel studied the cello with William Pleeth, with whom he developed a lifelong love of chamber music. He went on to take lessons with Alexander Baillie and Frans Helmerson in London and Cologne, and frequently attended the masterclasses of Gyorgy Kurtag, Ferenc Rados, members of the Alban Berg quartet and his father, pianist Alfred Brendel with whom he recorded Beethoven's cello sonatas. His chamber music partners include, among others, Henning Kraggerud, Lisa Batiashvili, Lars-Anders Tomter, Andrej Bielow, Katharine Gowers and Alasdair Beatson. Adrian is artistic director of the Plush Festival in Dorset and recently received honorary membership of the Royal Academy of Music, where he is on the faculty.
Ning Kam won second prize at the Queen Elisabeth Competition in 2001. Between 2011 and 2017 she was artistic director of Het Kamerorkest Brugge, a conductorless chamber orchestra with a focus on 20th and 21st century music. She regularly guest directs the strings of the Staatsorchester Rheinische Philharmonie, and as a chamber player she is part of the Kheops Ensemble and is also a founding member of Loco Motive, a bluegrass, jazz and funk trio with cellist, Sebastien Walnier and bassist, LisaDe Boos. Kam is professor of violin at the Royal Conservatory of Brussels.
Read: Tasmin Little appointed co-president of The Yehudi Menuhin School
Read: Yehudi Menuhin School to set up new music school in China
Read: Violin played by woman in Auschwitz given new life by Yehudi Menuhin School pupils
Director of music, Òscar Colomina i Bosch, said: 'It gives me great pleasure to appoint such distinguished musicians to the Music Staff as Ning Kam and Adrian Brendel. They both are committed, passionate educators who will bring a wealth of musical expertise and performing experience to the Menuhin School. I am sure that generations of students will benefit from the insightful mentoring of these two wonderful artists.'
Yehudi Menuhin founded his school in Surrey in 1963 to provide a place for musically gifted children from around the world to develop their talents regardless of their economic background. More than 90 per cent of current pupils receive a bursary in order to attend the school. The School is one of four designated residential specialist music schools supported by the Department for Education's Music and Dance Scheme, which enables exceptionally talented children to have access to the best specialist music and dance training available alongside a solid academic education.