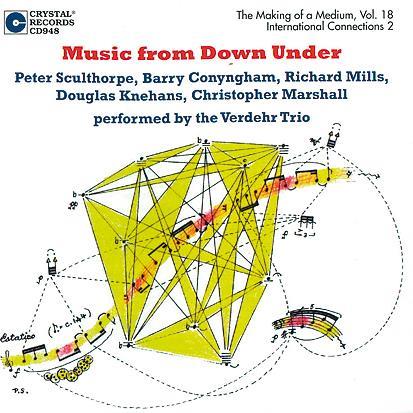 The Strad Issue: January 2009
Musicians: Verdehr Trio
Composer: Sculthorpe, Conyngham, Knehans, Mills, Marshall
Most of these works, all commissioned by or for the Verdehr clarinet trio, are from this century – only Richard Mills's Four Miniatures date from the last millennium – but their attractiveness would have horrified the modernists of long ago, and these players respond winningly to their often vivid colours and moods. The relationship to 'Down Under' is more apparent in some works than others. Peter Sculthorpe's Baltimore Songlines is a musical journey through the Northern Territories, complete with bird noises from violinist Walter Verdehr, who elsewhere in the piece produces beautifully shaped, sustained playing in a slowly unfolding lyrical duet with the clarinet amid rippling piano figurations.
There are more birds, this time from New Zealand, in the second movement of Christopher Marshall's Aspects of Spring, which the players dispatch in convincing Messiaenic style, between a first movement of beguiling melodic simplicity, played with great style and grace, and a delightful, contrapuntal dancing finale. Aspects is a predominantly happy piece, as are the Four Miniatures, to which the players bring a delicious lyrical insouciance. In Barry Conyngham's Playground, an atmospheric and often melancholy work, the violinist has a double-stopped soliloquy that Verdehr ratchets up to a kind of urgent despair.
Douglas Knehans's rive is perhaps the toughest work here, a muscular deconstruction of its opening material played with an edge of violence, although here, too, Verdehr displays the craft of fine melodic playing, shaping slow moving high lines with subtle varieties of vibrato. This is an attractive disc, with warm and immediate sound.



TIM HOMFRAY