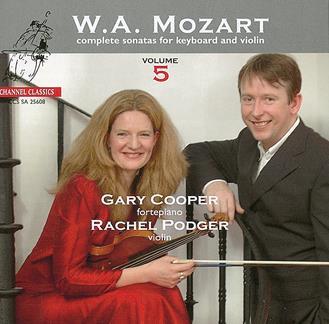 The Strad Issue: January 2008
Musicians: Rachel Podger (violin) Gary Cooper (fortepiano)
Composer: Mozart
The fifth volume in Rachel Podger's traversal of the complete Mozart violin sonatas includes one of the works he composed as a child. These were designated for keyboard with an optional violin part, and though not without academic interest when viewed in his development, they are musically unimportant. The case for the B flat minor Sonata, written at the age of ten, is not well made here: Gary Cooper hastens his way through the opening Allegro with a mechanical regularity that I find tedious.
Twelve years later Mozart was taking the violin and piano towards an equal partnership, though it is the keyboard that still carries the major thematic material in K305 and K306. That is made the more obvious in performances where you feel Cooper is thrusting forward in the outer movements, while Podger is happy to follow in his wake. Given a more expressive roll in the extended central Andantino cantabile of the D major work, Podger's playing has a likable and unaffected charm.
Some may consider Cooper's proactive stance up to this point takes his Classical purity one step too far for repeated enjoyment, but the account of the C major Sonata is very different. Here both players soften their impact with a degree of expressiveness that sheds great tenderness on the music, every phrase shaped with a beautiful sense of line.
The close-up recording seems to have added to the flinty sound of the fortepiano, with a balance that favours the keyboard obviously as the performers intended.
DAVID DENTON