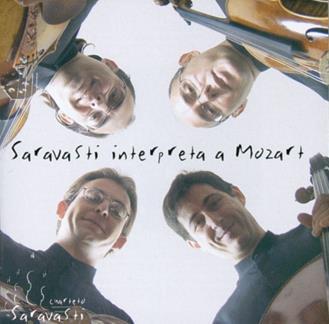 The Strad Issue: January 2008
Musicians: Saravasti Quartet
Composer: Mozart
The booklet cover proclaims 'Saravasti interpreta a Mozart' but in fact, rather than do any interpreting, these players from Madrid attempt nothing more than standard run-throughs of the music – and even in that modest aim, they fall short.
They are rather careful huntsmen at the start of the B flat major Quartet and only when it returns for the recapitulation does the jolly theme have the required bounce. No sooner have the listener's ears registered this improvement than they are assailed by slight tuning problems. After a humdrum minuet, the players show real feeling for the adagio but again spoil it with poor tuning. The finale is distinctly mediocre, with lacklustre rhythm.
The Adagio and Fugue again shows that these musicians, who have been together for just over a decade, have some sympathy for Mozart. They create the right atmosphere and sound quite imposing in the Adagio, following it with a rather deliberate Fugue, but spoil the effect with their intonation.
The 'Dissonance' betrays a lack of subtlety, more little rhythmic problems, especially at transitions in the first movement, and more lapses in tuning. The Casals Quartet apart, Spain has not been a happy hunting ground for quartets and on this evidence, the Saravasti is not going to raise the standard much. The recordings are adequate.
TULLY POTTER