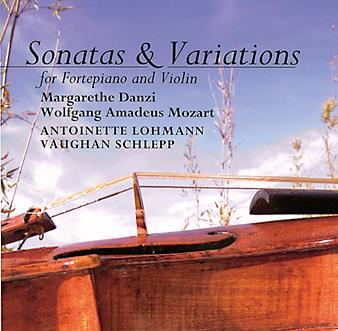 The Strad Issue: January 2007
Musicians: Antoinette Lohmann (violin) Vaughan Schlepp (fortepiano)
Composer: Mozart
Our knowledge of Margarethe Marchand prior to her marriage to composer Franz Danzi largely resides in letters written by Leopold Mozart, who taught her and her brother when they were teenagers. She became an operatic soprano and a pianist of some accomplishment, but she died in 1800 at the early age of 32, and her husband never remarried. The date and reason for these three sonatas is unknown, but they may well have been student works. She was obviously a gifted composer, and her sonatas stand comparison with the music of her mentor. The customary title at the time of works for 'piano and violin' is appropriate, with the main thematic material given to the keyboard. The pieces follow the pattern of an andante between two fast movements, and were undoubtedly intended to charm the listener.
Born in Amsterdam in 1969, Antoinette Lohmann studied Baroque violin with Lucy van Dael and now concentrates her career on music from that era – the gut strings of her 1770 Piattelini have a nice pungency as the violin dances arabesques around the fortepiano. Her playing is sure of intonation and always perfectly balanced, and she has an ideal partner in Vaughan Schlepp, who needs considerable agility to cope with Danzi's requirements. He plays a copy of a Stein from around 1785 that is nicely weighted with the violin.
W.A. Mozart's set of six variations on Helas, j'ai perdu mon amant is hardly a masterpiece and does not outshine the Danzi. Lohmann treats the music with the sadness that the title suggests. The sound quality is very good and leaves the violin unadorned
with reverberation.
DAVID DENTON