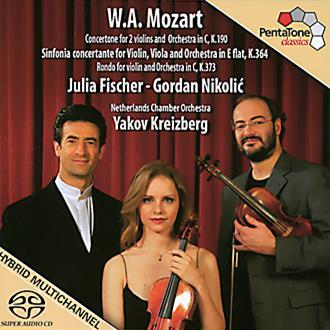 The Strad Issue: January 2008
Musicians: Julia Fischer (violin) Gordan Nikolitch (violin/viola) Herre Jan Stegenga (cello)* Hans Meyer (oboe)* Netherlands Chamber Orchestra, Yakov Kreizberg (conductor)
Composer: Mozart
Julia Fischer again demonstrates her outstanding technical command, musical perception and expressive purpose in these compelling Mozart performances. Her partner, Gordan Nikolitch, doubles commendably on violin and viola and succeeds substantially in emulating both her interpretative approach and her high standards.
These players' refreshing reading of the Sinfonia concertante is the jewel of the disc, performed with consistently imaginative phrasing, light, crisp articulation and silken tone. Although their account of the first movement is not as sensitive on detail as those of some competitors, it displays admirable elegance and poise, and their frequently alternating solo passagework forms a flowing dialogue. Their cadenza has all the requisite spontaneity, but their sudden 'wake-up call' – a heavily accented fortissimo final trill – wrecks the atmosphere created. They avoid over-indulgence in the expressive Andante, and the high-fibre, robustly articulated orchestral playing in the finale acts as frame and foil for their infectious vitality and rhythmic buoyancy.
Fischer's characterful account of the C major Rondo K373 combines purity, delicacy and incisiveness. She contributes her own cadenza, which seems appropriate in both length and style. Oboist Hans Meyer and cellist Herre Jan Stegenga join her and Nikolitch in a distinguished account of Mozart's Concertone. They play its outer movements with character and spirit and respond naturally to the line and phrase of the graceful central movement, Meyer and Fischer particularly excelling in the cadenza.
Yakov Kreizberg and the Netherlands Chamber Orchestra provide alert and sensitive support throughout. The close recording has fine body and presence but regrettably reproduces Nikolitch's sniffing.
ROBIN STOWELL