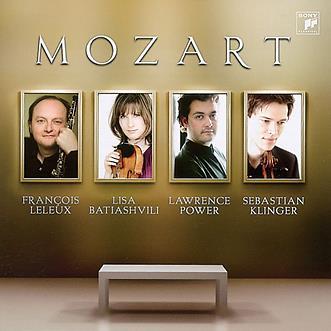 The Strad Issue: January 2008
Musicians: Lisa Batiashvili (violin) Lawrence Power (viola) Sebastian Klinger (cello) François Leleux (oboe)
Composer: Mozart, Britten, Dohnányi
Dohnányi's Serenade for String Trio provides the most extensive work in this disc's unusual programme. The score offers an attractive blend of warmth in the second movement acting as a foil to the perkiness of the Scherzo and the inventiveness of the theme and variations. In this performance dynamics are graded throughout with meticulous exactitude, but the trio's attention to every nuance is never allowed to detract from a liberating sense of vivid spontaneity. Intonation is spotless and there's an ideal balance between instruments, with Lawrence Power's viola delivering more strength to the centre ground than we normally hear.
The first part of the disc is devised around the outstanding oboist François Leleux, and his playing in Mozart's Oboe Quartet displays exceptional finesse set against a nicely blended and elegant backdrop. The origin of the arrangements for oboe and violin of three arias from The Magic Flute is not stated, and they are, at best, of passing interest, a description that equally applies to the incomplete Adagio probably intended for cor anglais, violin, viola and cello.
Britten's Phantasy Quartet for oboe and strings, written when he was just 19, makes imaginative use of the four instruments: the composer reinvents conventional melody in modern terms and also bringing a sense of good humour in the charming little march that concludes the work.
The balance is too generous to Leleux in the Mozart pieces, but is much better in the Britten, while the sound is very good in a completely different ambience for the Dohnányi.
DAVID DENTON