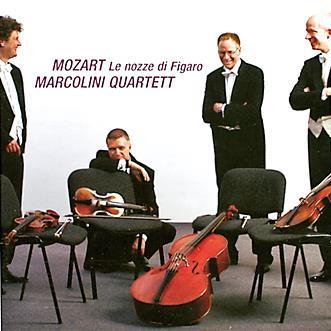 The Strad Issue: January 2007
Musicians: Marcolini Quartet
Composer: Mozart
This release of string quartet arrangements of key extracts from Mozart's Le nozze di Figaro perpetuates the Marcolini Quartet's reputation for unusual programming. Using printed parts published by Simrock (Bonn, 1799) and housed in the abbey at Melk in Austria, these period-instrument players indulge in an interesting parallel with 18th-century practice, when such arrangements served as ideal vehicles for disseminating the parent work's musical content to a wider audience.
This ensemble performs the high-spirited overture with unforced freshness, clarity of texture and vitality of articulation, and it captures the moods of the various other extracts with intelligence and sensitivity, as in Figaro's witty cavatina 'Se vuol ballare' and Cherubino's 'Non so più cosa son'. Its members instil a sweet unsentimental expressiveness into Countess Almaviva's melancholy 'Porgi amor' and an appropriate anxiety into Barbarina's 'L'ho perduta… me meschina!', and they shape the line effectively in the duettino 'Crudel! Perché finora'. Tempos are largely apt throughout, rhythms are infectiously pointed and the music's overall sense of joy is fully projected, especially in the final scene.
These players are sometimes found wanting in terms of unanimity of ensemble, technical finesse, tonal blend and final polish, as in Figaro's mock military aria 'Non più andrai'. Furthermore, the lack of a text inevitably weakens the dramatic impact of certain arias, notably the Countess's lament 'Dove sono' and Cherubino's love song 'Voi che sapete'; not so, though, the terzetto from Act 2 and the sextet from Act 3. The resonant recording, made at Melk, gives almost a string orchestral illusion at times.


ROBIN STOWELL