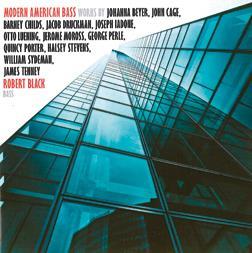 The Strad Issue: January 2012
Description: A stunning exposition of mastery on the double bass
Musicians: Robert Black (double bass) John McDonald (piano)
Composer: Iadone, Stevens, Porter, Moross, Luening, Beyer, Childs, Perle, Sydeman, Cage, Tenney & Druckman
US bassist Robert Black is a founder member of crack new-music group Bang on a Can All-Stars and a contemporary music specialist (see his Playlist). So you'd probably expect his all-American recital disc charting accompanied and unaccompanied bass music through the 20th century to be idiomatic, energetic and committed.
But this really is something else. The subtlety and eloquence of his playing are breathtaking, and his control of sound is remarkable. In Jerome Moross's Sonatina, for example, Black's microscopic tonal variations mean that single notes fade to nothing or grow in richness as he develops a phrase, and he cunningly weights the double-stops in Barney Childs's Sonata for Bass Alone so that each note seems to move off on a different trajectory. There's an almost naive purity to his playing in the Hindemith-influenced pieces by Joseph Iadone and Halsey Stevens, and he rises magnificently to the technical challenges of John Cage's 59½" for a String Player and Jacob Druckman's Valentine, a piece depicting such a sensual relationship between player and instrument that it almost seems voyeuristic to hear Black's passionate performance.
Despite the bassist's best efforts, though, there's the nagging feeling that some of this music, though undeniably interesting, won't stand up to repeated hearings. And sound is sometimes a problem in the package's first disc, where the playing of pianist John McDonald, although hardly over-assertive, sometimes obscures Black's part.



David Kettle