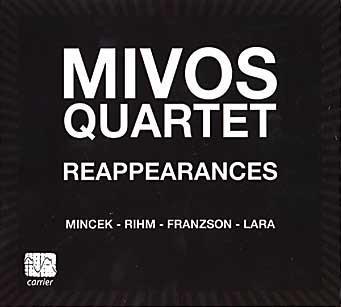 The Strad Issue: January 2014
Description: Swagger and style in an imaginative selection of contemporary works
Musicians: Mivos Quartet
Composer: Mincek, Rihm, Franzson, Lara
Formed in 2008, the New York-based Mivos Quartet already has a highly distinctive musical personality, demonstrated here in performances of edge-of-your-seat intensity, which still display a remarkable sense of subtle give and take within the ensemble. The music here isn't always an easy listen, but it's hard to imagine more thrillingly committed accounts.
The opener, Alex Mincek's Third Quartet, is a study in extreme textures – think harsh, screaming scrapings or the slitherings of bows barely touching strings – and the Mivos players give an astonishingly vivid account. More importantly, it's a thoroughly considered performance, weighed and delivered with meaning while never lacking spontaneity.
The Mahlerian expansiveness of Wolfgang Rihm's Quartettstudie comes as quite a contrast, but the Mivos players rise to its neo-Romantic demands splendidly, with violist Victor Lowrie eloquent in some angry, concentrated melodies. There's a real sense of the musicians playing off each other, shifting mood and texture together, and responding to each other's sometimes unexpected gestures – it's a joy to behold.
David Brynjar Franzson's on Repetition and Reappearances obsesses around single notes, with half-heard mutterings and sudden explosions of anger, and there's a gratifying inevitability to the Mivos's vision of the piece. The players seem to enjoy every minute of Felipe Lara's flamboyant, ever-surprising Corde vocale, playing with a sure sense of style and swagger. Recorded sound is quite resonant and boomy, but never lacks detail. With performances this assured, incisive and entertaining, the Mivos Quartet is an ensemble to be held in the highest regard.
David Kettle