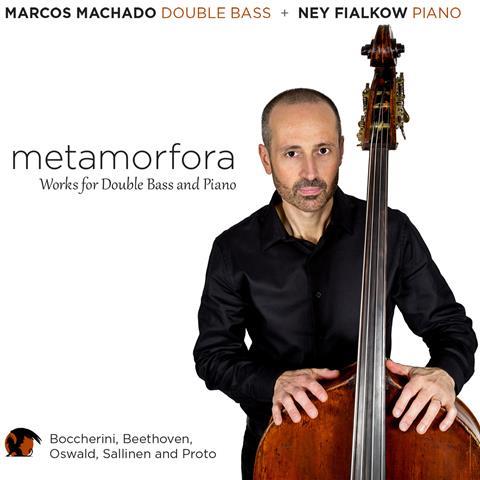 The Strad Issue: January 2016
Description: Four transcriptions for bass – but the original work comes off best
Musicians: Marcos Machado (double bass) Ney Fialkow (piano)
Composer: Beethoven, Boccherini, Oswald, Proto, Sallinen
Marcos Machado's first recorded performance, on Tarik O'Regan's Threshold of Night, was twice Grammy-nominated, and his first solo effort is no slouch either: a compelling exploration of transposed cello pieces drawn from outside the usual Bach-and-Brahms repertoire. Informed no doubt by his time studying under the current doyen of the double bass, François Rabbath, the internationally renowned performer's left-hand technique is incredibly fluid, brought to life with precise, faultless articulation.
For all this marvellous technique, it's worth stating that not all of this music merits the same level of attention. The Boccherini is a pleasant enough though mostly forgettable piece that will doubtless prove useful as a technical study. More engaging is the all-too-brief Metamorfora by Aulis Sallinen, which strikes an intriguing balance between Minimalist propulsive pedal-points and deeply romantic lyrical passages. The Beethoven is also pleasing, as Machado and Ney Fialkow tackle these seven contrasting variations on the theme from Die Zauberflöte with refreshing light-heartedness. Still largely unheard of outside his native country, Brazilian-born Henrique Oswald deserves championing, and Machado's fine account of his stylistically conservative yet gorgeous Sonata in E minor is an important contribution to the revival of this unsung composer.
The best is wisely saved till last. The only piece here written for bass, Frank Proto's Nine Variants on Paganini was premiered in South America by Machado. Exploiting a smorgasbord of styles, from the galloping double-stopped bursts of the first variation to the exquisite, jazzy meanderings of the third and the dizzying improvisations of the Latin-tinged seventh, it's a blast to hear (and a devil to play, no doubt). Machado's performance is a revelation, though the bass could have been placed further forwards in the mix. For the most part, however, this is a clear, satisfying and immensely rewarding recording.
TOM SHORT