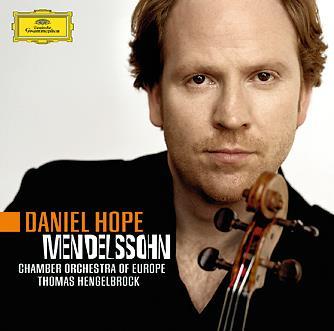 The Strad Issue: January 2007
Musicians: Daniel Hope (violin) Lucy Gould (violin) Sophie Besançon (violin) Christian Eisenberger (violin) Pascal Siffert (viola) Stewart Eaton (viola) William Conway (cello) Kate Gould (cello) Sebastian Knauer (piano) Chamber Orchestra of Europe, Thomas Hengelbrock (conductor)
Composer: Mendelssohn
This is the best playing I have heard from Daniel Hope. He fiddles very sweetly in the concerto, and three songs by Mendelssohn that he has transcribed himself are delightful – only when he goes up an octave in the last verse of On Wings of Song does he become a little tremulous.
Deutsche Grammophon claims a world premiere recording for the Violin Concerto, on the strength of getting in first with the 2005 Bärenreiter Urtext Edition, which is a bit Pharisaical as Isabelle van Keulen recorded the same version in 1998 – with voluminous explanatory notes, too. The Octet is played from Ralf Wehner's 2003 edition.
In the concerto Hope is let down by his conductor and recording team. Basically the balance is quite good but the 'chamber orchestra' sounds like a ton of bricks in the tuttis – the big orchestral entry at the start of the finale is brutal. Even in the Andante Hengelbrock is insensitive.
The opening movement, marked Allegro con fuoco in this edition, takes headlong flight but otherwise tempos are orthodox. I am glad Hope does not rush the finale – it scampers nicely. The changes from the usual edition are irritating rather than enlightening, the ineffective cadenza nowhere near as good as Ferdinand David's.
The recording of the Octet is quite democratic, with the first violin not dominating. I am not sure the players have always sorted out the internal balance but it is a pleasing performance if not a great one, with decent tempos. The lower registers of the cellos could be clearer.
TULLY POTTER