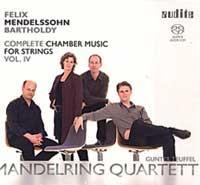 The Strad Issue: January 2014
Description: A recording that brings out the neo-Classical side of the composer's character
Musicians: Mandelring Quartet, Gunter Teuffel (viola)
Composer: Mendelssohn
This is another fine release (the fourth volume) in the Mandelring Quartet's ongoing survey of Mendelssohn's chamber music for strings, one that points up the supreme challenges of Mendelssohn interpretation. This is music in which the players should above all exalt, and in the case of the B flat major Quintet's opening movement, surf the rolling tide of the composer's exuberant imagination. Hausmusik (Virgin/EMI/Warner) captures this special quality in no.1 and in no.2 the Guarneri Quartet and Pinchas Zukerman (RCA, incredibly still awaiting transfer to CD) remain unsurpassed.
By comparison, the Mandelring Quartet and Gunter Teuffel emphasise the composer's exhilarating, neo-Classical thought patterns in a manner reminiscent of the Melos Quartet's virtuoso 1970s cycle for Deutsche Grammophon. These are precision-engineered performances, which delight in the composer's Mozartian deftness and structural seamlessness rather than indulge his propensity for Romantic emotional narrative. They create the ideal sound world – transparent, light-textured, immaculately balanced, nimbly articulated – and sustain remarkably pure intonation and precise ensemble throughout. They also generate a great deal of excitement during the composer's characteristically busy development and codetta sections, most notably in the finale of no.2, which is dispatched with great flair and élan. All I miss is a sense of the music truly relaxing when the scurrying stops.


Julian Haylock