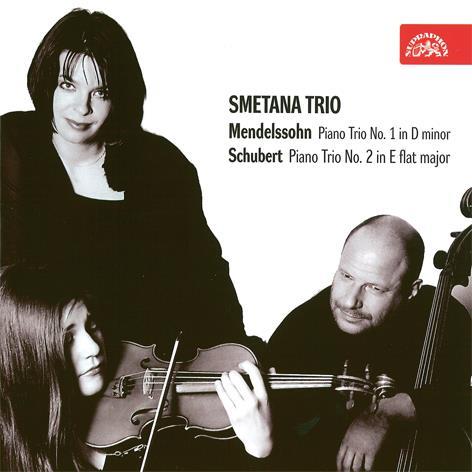 The Strad Issue: January 2010
Musicians: Smetana Trio
Composer: Mendelssohn, Schubert
After focusing largely on recording the Czech piano trio literature, the Smetana Trio celebrates the tenth anniversary of its new incarnation by turning to more staple Romantic fare. Its members perform the restless opening movement of Mendelssohn's First Piano Trio with urgency and passionate commitment, Jitka ?echová playing her challenging piano role with remarkable incisiveness and athleticism while violinist Jana Vonášková-Nováková and cellist Jan Pálení?ek make full-blooded cantabile contributions. They shape the phrases of the slow movement with commendable sensitivity, but their express tempo for the feather-light scherzo occasionally results in blurring of the musical detail. Their enthusiasm and vitality are maintained in the finale and they make much of its strong dramatic contrasts.
Their account of Schubert's Second Piano Trio is equally penetrating, yet full of spirited spontaneity and, in spite of the moments of melancholy, much Schubertian bonhomie. They capture the atmosphere of the important lyrical motif, first heard in the cello, which predominates in the first movement alongside the piano's repeated-note figure, and shape the Andante most eloquently. They contrast the canonic Scherzo and boisterous Trio and maintain the jaunty character of the finale despite the numerous changes of mood. The recording is completely lifelike and well balanced.



ROBIN STOWELL