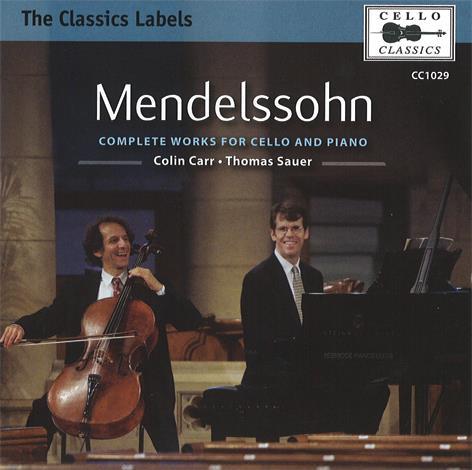 THE STRAD RECOMMENDS
The Strad Issue: January 2011
Description: Spirited Mendelssohn from a consummate cellist
Musicians: Colin Carr (cello) Thomas Sauer (piano)
Composer: Mendelssohn
Any disc by Colin Carr is an event, and Cello Classics is to be congratulated on getting him and Thomas Sauer into the studio, soon after the British cellist and American pianist played this music so persuasively at the Wigmore Hall.
They are straight into a pleasantly airy tempo for the B flat major Sonata, playing rather like their cover picture, where Carr looks uproariously happy while Sauer smiles shyly. I like their simple phrasing for the Andante and the way they take off for the second theme. Again they start the finale simply and this is a lovely performance.
Carr makes an upbeat start to the D major Sonata, treating the Allegro vivace as a real romp. After an excellent scherzo, where the duo move irresistibly into the trio, they are eloquent in the Adagio, with fine tone from Carr. The finale displays their joint virtuosity.
They start the Variations as if telling a story and continue in the same vein, as they did at the Wigmore. The Song Without Words shows Carr's lyrical vein. The sound is excellent, but I must mention that Maisky (Deutsche Grammophon), with a more extrovert pianist, and Meneses (Avie) provide extra pieces.



TULLY POTTER