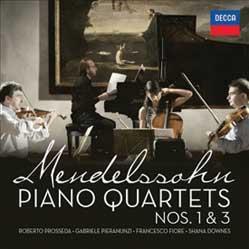 THE STRAD RECOMMENDS
The Strad Issue: January 2012
Description: Accounts of Mendelssohn that make the most of fraternal sympathy
Musicians: Paul Watkins (cello) Huw Watkins (piano)
Composer: Mendelssohn
The Watkins brothers make a formidable team, and Mendelssohn's cello works are a natural fit for them, written mostly with the composer's cellist brother, also called Paul, in mind. Their playing has an easy, genial flow to it, infused with energy and purpose. The give and take between the instruments in the First Sonata's first movement is a delight, as they move seemingly effortlessly from drama to relaxed lyricism and back. The Andante is poised and elegant, the finale fluid and exciting.
The Variations concertantes, written when Mendelssohn was still only 19 but already with a handful of masterpieces to his credit, are dedicated to his brother. The Watkins duo charts a coherent course through its many contrasts of character, with Paul beautifully defusing the heat at the end of the Presto ed agitato seventh variation.
The little Lied ohne Worte, the only one Mendelssohn wrote for the cello, is a demonstration of the art of unaffected lyrical playing. The performance of the Second Sonata, which comes last, is vivid and compulsive, full of colour and, in places, a wonderful delicacy. The sound is warm and vivid, perfectly balanced between the instruments.



TIM HOMFRAY