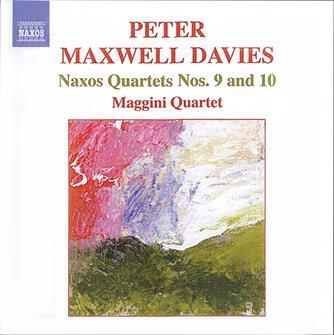 The Strad Issue: January 2008
Musicians: Maggini Quartet
Composer: Maxwell Davies
These final two works in Peter Maxwell Davies's 'Naxos' series of quartets match the intricately crafted writing of the previous eight – and the recording echoes the first four discs in the searing, sublime brilliance of the Maggini Quartet's performance.
Maxwell Davies is at pains to emphasise that this in no way represents the end of his string quartet oeuvre: he hammers the point home in the delicious, tripping hornpipe finale of no.10, which comes to an abrupt end partway through, as if suspended in mid-air, begging a continuation.
But back to Quartet no.9, which shows Maxwell Davies's mastery of form and the ease with which he inhabits his material. After an explosive first movement and some high-wire melodies in the second, the third, fourth and fifth movements act as a miniature 'quartet within a quartet', with a bursting Scherzo, an enraptured Lento and a choppy, chromatic military march that amazingly manages not to sound like Shostakovich. All this is capped with a forceful, clamouring finale.
With the final quartet of the series, Maxwell Davies writes that he was tempted to go for the ultimate, grand gesture, but in the end decided on a more modest work, akin to a Baroque suite but using Scottish dances. It's a bold move, and one in which humour shines through the exquisitely detailed string writing, from the fractured, whirling rhythms of the broken reel to the fleet-footed quote from the dance tune 'Deil Stick da Minister' in the fourth movement. The crisp, clean and spacious recorded sound all adds to the punch of a superbly performed disc.
Catherine Nelson