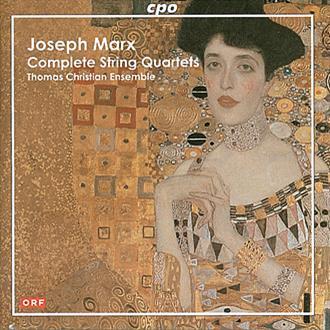 The Strad Issue: January 2006
Musicians: Thomas Christian Ensemble
Composer: Marx
Joseph Marx's delightfully lyrical Quartetto in modo antico dates from the late 1930s, the time when Germany annexed the composer's native Austria. It feels almost as if Marx (1882–1964), though a contemporary of Webern and Bartók, were looking to an inherited, secure tonality to shed fresh light amid darkness and uncertainty.
The playing on this disc is beautifully assured. Amid quite elaborate contrapuntal writing Marx, an accomplished song composer, ensures his instrumental lines positively sing: the underlying poignancy of the finely sustained, quite thickly scored Adagio is beautifully caught here. A lightness of touch from this thoughtful and stylish ensemble enhances the finale, topped out by a buoyant fugue and lovely hymnic conclusion.
The same delicious lyricism characterises Marx's slightly later Quartetto in modo classico. The four players' ensemble is first-rate and their balance is again excellent. Although Marx writes relatively few exposed solo passages, the players' individual voices are heard to fine effect in the reflective Adagio, and all four bring out the warmth and generosity of the composer's nostalgic tonal idiom.
By contrast the earliest work, the Quartetto chromatico, explores a tense and eerie sound world closer to Schoenberg's Verklärte Nacht, full of mystery and surprise; especially in the questing Sehr langsam, which follows a lively, urgent Scherzo and ushers in an unexpectedly breezy finale. The readings here are perhaps not as garishly coloured as the gutsier Lyric Quartet on ASV, but the steady reliability of this Thomas Christian version has much to commend it, and the CPO/Austrian Radio sound is finely engineered.
Roderic Dunnett