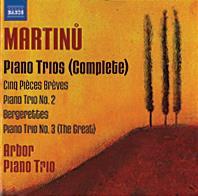 The Strad Issue: January 2013
Description: A subtle account that features fluid and sensitive playing
Musicians: Arbor Piano Trio
Composer: Martinu
The Arbor Trio brings a strong sense of line and lyricism to Martinu's Cinq pièces brèves (which count as his First Piano Trio), even when the composer is at his most spiky and rhythmically dislocated.
The fourth-movement Allegro moderato is great grotesque fun, and the finale ebbs and flows neatly as it swirls hectically along, its technical demands handled with aplomb (although intonation is suspect at times throughout the disc). Martinu the melodist is more apparent in the Second Piano Trio. The playing can be quite hard-edged – the recording is close-in – but the players shape the sinuous, unpredictable lines nicely, and deftly sustain the long, musical spans. The five Bergerettes, which are shot through with motoric, syncopated rhythms to complement their melodic invention, receive fluid and sensitive playing that is often delicate as well. There is a degree of simple majesty to the central Andantino, and the whimsical Allegro that follows is deliciously light and airy.
Some of the subtlest playing on the disc comes in the Third Piano Trio (The Great), which follows the strange emotional path of the first movement – it is carefree in one place and somewhat fraught in another. The string duos of the second movement are wonderfully done.



TIM HOMFRAY