In this extract from the July issue, Sisi Ye examines one violin making school in China teaching the art of lutherie to young people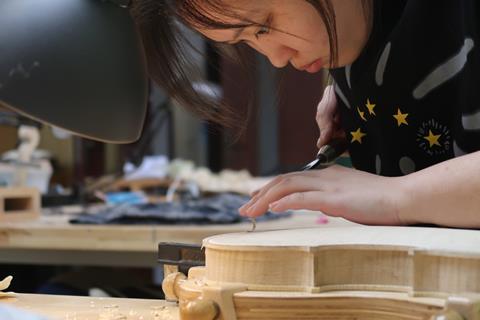 The following extract is from The Strad's July issue feature on violin making schools in China. To read it in full, click here to subscribe and login. The July 2021 digital magazine and print edition are on sale now.
Xinghai Conservatory of Music (XHCM), for a long time the only music conservatoire in South China, has been teaching violin making since 2017. The course is led by Yi Ying from Zhejiang province, who studied with Hua Tianreng at SHCM. She later travelled to Cremona to train with master luthier Giorgio Cè. It was always her dream to return to China to teach students what she had learnt. However, when she arrived in Guangzhou, there was no trace of violin making left in the city – she could not even find basic tools to work with. Even though the Hongmian Violin Factory had been founded there in 1953, by the time Yi arrived, its focus had shifted to guitar making and the violin hubs had shifted to the northern and eastern parts of the country. So everything in XHCM's violin making studio had to start from zero. 'With insufficient financial resources, I was forced to ask the local craftsmen to make special tools for my students,' Yi recalls. 'I also had to translate and edit all the teaching materials and textbooks myself.'
At present, XHCM accepts four to six students each year on its violin making course. Most of the current students come from the surrounding provinces and cities. After graduation, many choose to go abroad for further study. According to Yi, the biggest difference between lutherie education here and in Cremona is that teaching in Italy is more practical, and the curriculum more target-oriented.
Yi's student Wang Ting is preparing to continue her studies in Cremona after graduating this summer. The reason, she says, is that it is hard to know what makes a first-rate violin, as one rarely gets the chance to hear and examine fine instruments in China. 'Studying in Cremona will let me see the best fiddles in the world and learn the most authentic violin making techniques,' she says. 'Also, I have received many opinions and ideas from different people here, so I want to assess what I've learnt. It will be good to study in a place with a relatively focused tradition. I believe it will help improve my skills for the next stage.'
Awareness of violin making as an occupational choice is still relatively low, and courses need to be promoted across China. 'If more young luthiers were trained locally, and their achievements acknowledged, this profession could become widely celebrated by the public,' says Yi.
Read: Lutherie in China: the enterprise system
Read: Musical groundbreakers: female luthiers and their experiences in the lutherie industry
This article was published in the July 2021 Carlo Bergonzi 'Baron Knoop' issue

Micro-CT scanning technology reveals the secrets of the 1735 Carol Bergonzi 'Baron Knoop' violin. Explore all the articles in this issue . Explore all the articles in this issue

More from this issue…