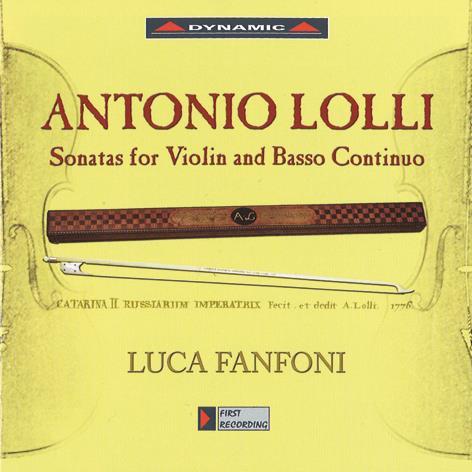 The Strad Issue: January 2011
Musicians: Luca Fanfoni, Antonella Tanetti (violin) Marianne Chen (cello) Paola Del Giudice (harpsichord) Erich Galliani (guitar)
Composer: Lolli
Luca Fanfoni and his colleagues offer variable accounts of a cross-section of Antonio Lolli's sonatas, eccentric works that proved significant precursors of Paganini's virtuoso style. Fanfoni demonstrates an enviable technical facility, not least in the outer movements of the two-violin op.9 no.2 in G major, and he contributes some commendably clean and assured playing in the histrionics of Lolii's stratospheric tessitura. Harmonics, too, are crystal clear, notably in the Minuetto variations of op.3 no.6 in A major. But he does not emerge unscathed in, for example, the opening Allegro of op.1 no.4 in A major, or the outer movements of the G major Sonata op.3 no.5; further, his tempo for the finale of op.3 no.4 in D is far from a presto. Nevertheless, he responds persuasively to Lolli's lyrical muse, shaping the line adeptly in the slow movements, particularly of op.1 no.4 and op. 3 no. 5 (this latter to the accompaniment of cello only), even though he adds only limited extempore ornamentation.
Antonella Tanetti is a lukewarm second violinist in op.9 no.2, and, apart from guitarist Erich Galliani, the continuo support is relatively uninspired. Ensemble and intonation are variable throughout. Sadly, the close recording tends only to accentuate these performances' negativities.


ROBIN STOWELL