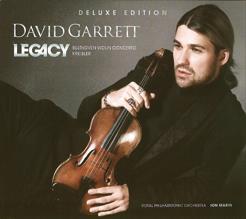 The Strad Issue: January 2012
Description: A classical release from a crossover star ultimately disappoints
Musicians: David Garrett (violin) Royal Philharmonic Orchestra/Ion Marin
Composer: Beethoven, Kreisler (arr. Van der Heijden/Garrett)
German violinist and child prodigy David Garrett was offered his first Stradivari at the age of 11, signed an exclusive contract with Deutsche Grammophon at 13 and played at the Proms at 21. Now in his early 30s – and dubbed 'the Beckham of the violin' for his chiselled jaw and penchant for Armani – he's notorious for his rock–classical crossover concerts.
This new offering is a strictly classical disc of Beethoven and Kreisler (alongside a bonus DVD documentary on the photogenic Garrett's life story). Tackling such a warhorse as the Beethoven Concerto seems a risky strategy – what could Garrett possibly find that's new to say about it? In the event it's pleasantly well performed, with Garrett achieving a sweetly drifting, airy tone in the opening, and an endearing yearning in the Largo. Ion Marin and the Royal Philharmonic Orchestra (RPO) provide incisive, well-rounded support, emphasised by the crisp clarity of the recording. Expectations are again surpassed with a commanding romp through the Rondo, but in the end it is all oddly unsatisfying – perfectly decent but never gripping.
The selection of Kreisler pieces – arranged by Garrett with Franck Van der Heijden for violin and orchestra – are more successful. Garrett trips through these lollipops with fleet-fingered showmanship and a dazzling, honeyed tone, with impeccable support from the RPO. But for me, it all has a slight air of going through the motions.



Catherine Nelson