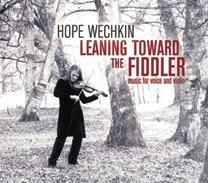 The Strad Issue: January 2013
Description: An effective marriage of singing and violin playing
Musicians: Hope Wechkin (violin/voice)
Composer: Trad.
It's hard to label Hope Wechkin either as a fiddler who sings, or as a vocalist who can accompany herself on violin, as on this evidence, neither skill deserves secondary billing. In both playing and singing, this set of folk and classical songs, new and old, reflects an understated but distinctive style.
Wechkin's work in contemporary vocal and chamber music lends something of the conservatoire to her sound. Her soft, clear voice is coloured by a generous vibrato that doesn't sound out of place in the Eastern European folk pieces that feature, but which really comes into its own in the art songs such as A Joyful Time. No less clear is her violin sound: her self-accompaniment is dominated by assured double-stopping that combines open folk harmonies with more dissonant touches, sometimes prodigiously, as in the Californian-inspired Sea Drift.
The two solo fiddle pieces allow a slight sense of unshackling, as a more playful, free-roaming quality and an earthier tone emerge. Baroque touches inflect Amarilli, mia bella. Perhaps the strongest moments are the folk songs – the pared-back Bosnian Mujo Kuje and the unbending rhythmic character of the Bulgarian Shto Ti Se Maika – an affecting marriage of Wechkin's considerable talents.


JAMES CREL