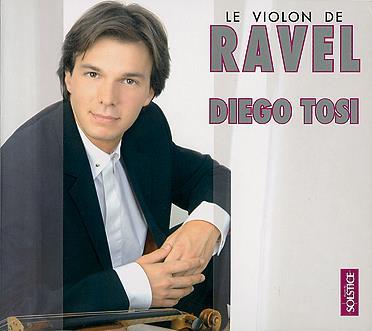 The Strad Issue: January 2006
Musicians: Diego Tosi (violin) Nathalie Juchors (piano) Annette Abscheidt (harp) La Camerata de France
Composer: Ravel
Diego Tosi's homage to Ravel includes an impressive account of Tzigane in David Walter's orchestral transcription. Having sustained the tension and improvisatory character of the initial unaccompanied section with excellent effect, Tosi launches into the second part with gusto, dispatching its testing bravura writing with élan (if not with total accuracy) and building to an exciting and brilliant culmination. By contrast, he is flexible, colourful and silkily seductive in Georges Catherine's orchestral transcription of the Vocalise en forme de habanera and he performs the composer's rhapsodic prayer for the dead, Kaddish, evocatively, stylishly and with striking emotional sensitivity.
Pianist Nathalie Juchors joins Tosi for the remaining items. Together they form an outstandingly sympathetic partnership, which is handsomely served by the recorded sound and balance, and they are at their persuasive best in the 1927 Sonata. They perform its opening movement with appropriate flexibility and tonal purity, make Ravel's personal stylisation of the blues material in the subsequent movement sound entirely natural, and dispatch the perpetuum mobile finale with commendable technical agility, verve and spontaneity.
Despite occasional rough edges resulting from some unidiomatic violin writing, the duo treats Ravel's early Sonata with due delicacy, revelling in its lyricism and harmonic subtlety and exploiting a wide range of character and instrumental colour. The same applies to their reading of the sinuous muted melody of the Berceuse sur le nom de Gabriel Fauré, while Heifetz's transcriptions of the sixth and seventh Valses nobles et sentimentales find Tosi mirroring effortlessly the virtuosity of his illustrious forebear.
ROBIN STOWELL