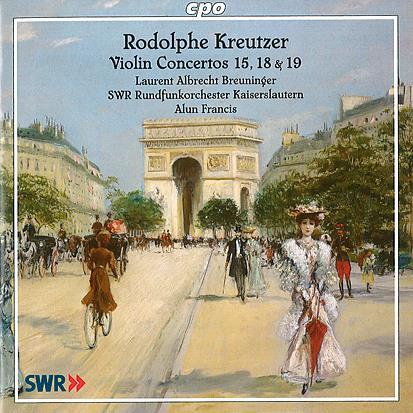 The Strad Issue: January 2010
Musicians: Laurent Albrecht Breuninger (violin) SWR Radio Orchestra Kaiserslautern/Alun Francis
Composer: Kreutzer
Rodolphe Kreutzer (1766–1831) is best known for his 42 Études. Along with Paris Conservatoire colleagues Rode and Baillot, he was a protégé of Viotti, which is reflected in these concertos. All three works successfully reconcile a love of sustained melody with complex instrumental writing, including rapid runs with trills that were part of this early Paris style. No.19 is perhaps the best unified structurally, although no.18 is effective, from the impassioned first movement to its vivacious finale. There is something particularly Spohr-like in the opening of no.15 (which quotes Kreutzer's Étude no.25 in the first movement, including the cadenza).
Laurent Albrecht Breuninger, the first German violinist to win one of the first three prizes in the Queen Elisabeth Competition in 1997, delivers sonorous and capable performances, although there are occasional lapses of intonation, as in the first movements of nos.15 & 19, which can push a little sharp, both in high registers and on the G string. His playing is entirely conventional stylistically, but he is mercifully sparing in excess and his clean approach is well matched by some tidy orchestral playing. The recording quality is equally free of distractions and the booklet notes informative. A well-balanced and worthy disc.


David Milsom