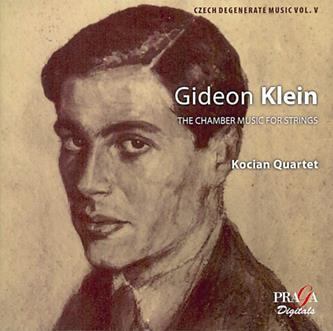 THE STRAD RECOMMENDS
The Strad Issue: January 2007
Musicians: Kocian Quartet
Composer: Klein
We are lucky to have any music by Gideon Klein (1919–45). As a Jew, he was banned from studying by the Nazis. His pre-war works survived thanks to the Schoenberg scholar Eduard Hertzog, who hid them before Klein's deportation to Terezín. The works he wrote there prior to his transport to Auschwitz and liquidation he entrusted to Irma Seme?cká, who passed them on to his sister.
Like earlier Klein discs, this is a revelation – especially as his advocates are his formidable compatriots the Kocian Quartet. Klein's roots lay in Moravia, but only the mature, three-movement String Trio of 1944, written in the camp, has an especially strong Janá?cek flavour – not least in the finely played Lento ('variation on a Moravian folksong'), but also in the striding outer movements.
The Four Movements (1938) and Quartet (1940–1) each brings its rewards (the Kocian rounds off the latter with a wonderful, almost Blues-like Andante, a real 'Langsamer Satz'). But it's worth sampling the end of the disc first: it includes two duos, in the first of which leader Pavel Húla – invariably outstanding – pairs with cellist Vaclav Berná?sek in one of the most attractive pieces included here; the other (for violin and viola) explores the quarter-tone system of Klein's revered teacher, Alois Hába.
The Kocian's violist, Zbyn?k Padourek, gives a gripping performance of the involving Preludium for solo viola – well up to Bartók's level – and all four members excel in Klein's magnificent Terezín masterpiece, the Fantasy and Fugue. The Praga sound, like the playing, is forceful, arresting and exciting.
Roderic Dunnett