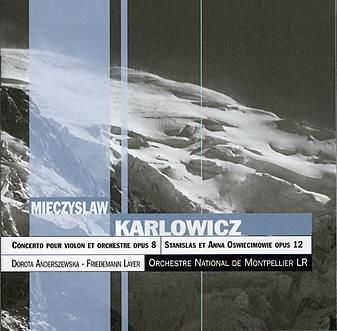 The Strad Issue: January 2007
Musicians: Dorota Anderszewska (violin) Orchestre National de Montpellier, Friedemann Layer (conductor)
Composer: Karlowicz
A sustained feeling of joy and rapture pervades this richly Romantic Polish concerto: there are few clouds on the horizon. The noble, spacious opening soon ushers in a lyrical theme of ravishing beauty. The alluring tone of Dorota Anderszewska' playing is gorgeously suited to Mieczyslaw Karlowicz's warm, luscious solo writing: her phrasing is relaxed and supple, never dull or four-square. As well as delivering a stirring cadenza, she reveals an inspired feel for dynamic rise and fall, varying and enhancing both the Tchaikovsky-influenced opening Allegro and sumptuous slow Romanza.
The Montpellier orchestra shines, with passionate and forceful string tone, exciting brass and eloquent woodwind. The sprightly finale includes many glowing exchanges and some appealing decoration from the soloist. There follows a bracing performance of a Karlowicz symphonic poem: the strings again excel in all sections, especially where the composer mines a rich seam of indulgent late Romanticism to express conflicting emotions and torrid passions. The warm, generous acoustic benefits both these magnificent live performances.
Roderic Dunnett