The Strad's editor Charlotte Smith introduces the January 2020 issue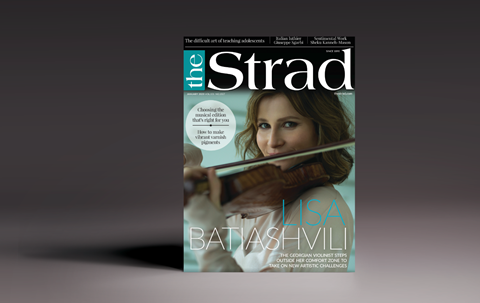 To evolve as an artist requires courage and openness. For those occupying that exclusive top level of international fame, these qualities are even more important, particularly considering the level of scrutiny from audiences and peers. This month's cover star Lisa Batiashvili is one such artist. But, as she tells Toby Deller on page 30, she has not always had the confidence to 'expand her limits'. It was only last year that she finally felt able to take on the role of artistic director of a summer festival – Audi Summer Concerts in Ingolstadt, Germany. The project is just one component of a larger programme of growth for the Georgian violinist, who also speaks about her contribution to The White Crow soundtrack and introduces her new collaborative recording project for 2020.
Having the courage of one's convictions applies to many areas of music making – not least choosing the right musical edition. In page 28's Postcard article, artistic director Paul Roczek describes the shock he felt when several candidates at this year's Zhuhai International Mozart Competition failed to use the composer's own bowings. His surprise illustrates the strong attitudes of musicians regarding urtext versus edited scores. On page 58, cellist Pedro de Alcantara expands on this topic and offers guidance on how to balance personal interpretation with the need to preserve the composer's authentic voice.
Accuracy is clearly of paramount importance in upholding traditional standards of instrument making, too, including the production of varnish. The process of making vibrant red pigments using madder root, for example, is shrouded in mystery. On page 38 luthiers Hugh Withycombe and Guy Harrison present the results of three years of research into the pigment making process, and offer up their tried and tested recipes for the benefit of all.
Charlotte Smith editor
Email me at thestrad@thestrad.com or tweet @TheStradMag