The Strad's editor Emma Baker introduces the April 2023 issue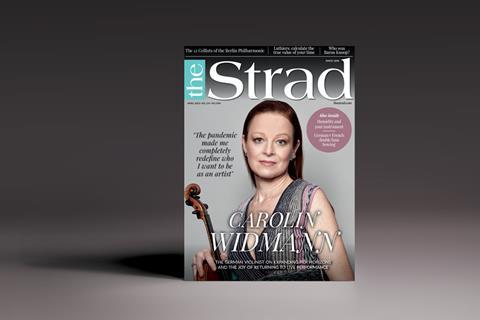 The start of the Covid-19 pandemic three years ago, with the first major waves of infection and subsequent lockdowns, can now seem like the distant memory of a bad dream. Its effects still linger, however, even for those lucky enough to make it through this strange and troubling time relatively unscathed. The celebrated German violinist Carolin Widmann is one of many musicians who found herself changed by the experience, both personally and artistically. As she tells David Kettle on page 28, she 'hit rock bottom' but now that she's back playing to live audiences, 'whether it's in front of five people or two thousand, I cherish every moment.'
Also in our German-themed April issue we profile the enormously popular 12 Cellists of the Berlin Philharmonic, who celebrated their 50th anniversary as an ensemble last year. On page 36 Katinka Welz speaks to members of the group about how they balance their busy dual lives as the 12 Cellists with playing in the cello section of one of the world's top orchestras.
There are more than a handful of great instruments that bear the name Baron Knoop. But who was he? On page 44, Clifford Hall explores the colourful life and times of Johann Knoop, the Russian-born, German heir to a cotton mill fortune, one-time south London resident, and passionate, even obsessive, collector of stringed instruments including two quartets of Stradivaris.
Recently I was talking to a violinist who slyly asserted that in terms of double bass bow holds, 'of course German is much better'. Quite a contentious statement! Who better to restore balance to the argument than Rodrigo Moro Martín, the London Symphony Orchestra's new principal double bassist? He uses a German bow, but his section freely mixes both French and German styles. On page 25 he explains why the two holds are different but equal, and should coexist in harmony.
Emma Baker editor
Email me at thestrad@thestrad.com or tweet @TheStradMag