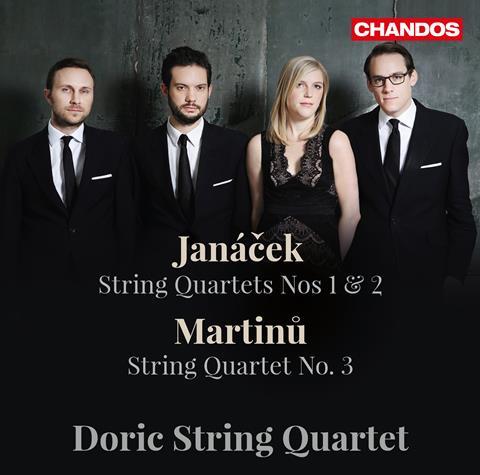 The Strad Issue: July 2015
Description: Four become one in Janácek's autobiographical quartet diptych
Musicians: Doric Quartet
Composer: Janácek, Martinu¯
The players of the Doric Quartet clearly appreciate the drama at the heart of Janácek's two quartets. They emphasise the tragedy of no.1 and one can sense the narrative of Tolstoy's novella The Kreutzer Sonata unfolding through the music's textural and dynamic contrasts. There's a certain mannerism to the way they hold on to the crotchets in the folk-like subsidiary theme of the opening movement but apart from that, interpretative decisions seem musical and cogent.
Despite bringing a similar over-deliberation to the opening music of no.2, the musicians nevertheless convey this work's visceral emotional volatility in the way they reveal the secrets of these sonic 'Intimate Letters', where delicacy vies with extrovert passion and where warmth of tone is set against rhythmic impetuosity.
There are recordings that give more focus to individual instruments in these works but the homogeneity of ensemble in these Potton Hall accounts emphasises the way that the four players operate as a single, unified voice in conveying Janácek's originality of thought.
It would be easy to dismiss the 13 minutes of Martinu¯'s Third Quartet as a mere filler in this context but the Doric players bring a pithiness to the music that allies it with Janácek's aphoristic manner while emphasising its stylistic distinctiveness.
MATTHEW RYE