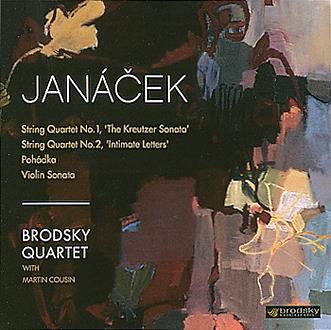 The Strad Issue: January 2006
Musicians: Brodsky Quartet, MartinuCousin (piano)
Composer: Janácek
British players have been involved with Janá?cek's chamber music since the famous Wigmore Hall concert of 6 May 1926, in the composer's presence. It is wonderful that so many now play his music – but whether they should make recordings of it is open to doubt, given the track record.
This carefully prepared, well-recorded and (for the most part) beautifully played disc joins the pile of casualties including The Lindsays and the Gabrieli, Vanbrugh and Belcea quartets – and for the same reason: that everyone has been invited to the party except Janá?cek himself.
I have enjoyed listening to the Brodsky's playing, especially since I never intend to hear it in concert again (it plays standing up, which allows for too many surplus movements). Much here is very lovely – the opening of the finale of the First Quartet, a good deal of the Second Quartet. But loveliness in this disturbing music is not enough.
The 'Kreutzer Sonata' in particular lacks the intense, committed quality of the best Czech performances, the feeling that the music is a matter of life or death to the players. Some passages in 'Intimate Letters' also need more oomph and bite.
Leader Andrew Haveron, who interestingly plays a modern instrument, has quite a good shot at the Violin Sonata, really making something of it even though he falls short of the finest Czechs. Pianist MartinuCousin satisfies more here than in Pohádka, where both he and cellist Jacqueline Thomas sound underpowered and overparted.
TULLY POTTER