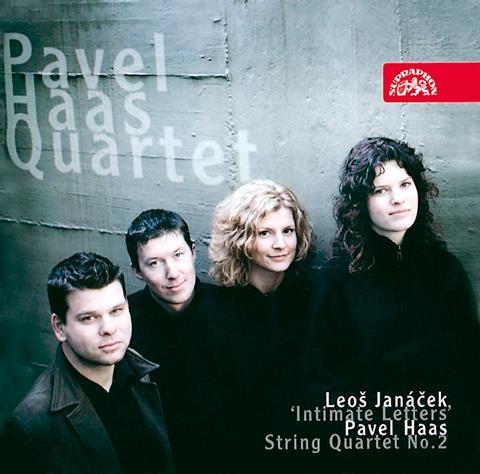 The Strad Issue: January 2006
Musicians: Pavel Haas Quartet, Colin Currie (percussion)
Composer: Janácek, Haas
This beautifully engineered disc offers a brilliant and instructive recording of the oft-recorded Janá?ek Second Quartet. The prizewinning Pavel Haas Quartet comprises four relative youngsters, but the precise calibre of their ensemble, and their minute attentiveness to one another plus the subtle way each member is given space by the others at key solo moments both here and in Haas's Second Quartet, make this not just an intelligent, fresh reading, but also a beautifully crisp, clear one.
They launch the Janá?ek quite slowly, which – surprisingly – renders the opening Andante all the more edgy (helped by striking contributions from violist Pavel Nikl). There is a real sense of depth in the Adagio, with clear differentiation between foreground and background. The sweet tone of leader Veronika Jar?šková brings a special glow to the Moderato, contrasting with the others' skilfully managed stormy outbursts; Jar?šková shines, too, in the neatly tacked-on final Allegro.
The Second Quartet by Pavel Haas, who died at Auschwitz in 1944, makes for an extraordinary journey. True, the spirit of Janá?cek presides at the outset, but the real fun begins with a rickety 'coach ride', jerkily evoked in the second movement. A shadowy moonscape follows, in which the moon seems to appear and then hide behind cloud (again, fine viola playing from Nikl). Finally comes a spooky free-for-all, with shades of Berlioz's 'Witches' Sabbath' (Symphonie fantastique), plus some surprise percussion added at the climax. The constant here is the assurance of these fine young players, fabulously together, coupled with the wonderful directness with which Supraphon captures and astutely balances the four strings.
Roderic Dunnett
Reference
The Strad Issue: 11/01/2006
Musicians: Pavel Haas Quartet, Colin Currie (percussion)
Composer: Janácek, Haas