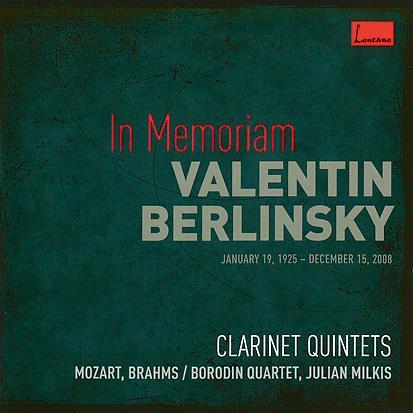 The Strad Issue: January 2009
Musicians: Borodin Quartet, Julian Milkis (clarinet)
Composer: Brahms, Mozart
Recorded in the Moscow Conservatoire's Great Hall on 4 January 2000 (the audience is commendably quiet apart from a pair of sneezes just over three minutes into the slow movement of the Brahms), these glowing, well-balanced recordings feature two of cellist Valentin Berlinsky's favourite chamber works in performances as expressively supple and mellow as the music itself. Berlinsky was just a few days short of his 75th birthday, yet he sounds as agile and musically responsive as a man half his age. Incredibly, he continued playing with the quartet for another seven years before retiring in August 2007, just over a year before his death.
The main hallmarks of the Borodin Quartet have always been its technical and tonal mellifluousness coupled to an expressive candour free of extraneous temporal inflection. Without the slightest sense of strain, these glorious quintets magically unfold with a supreme sense of inevitability, highlighted by the seamless, fine-tuned playing of clarinettist Julian Milkis, strikingly reminiscent of the great Karl Leister. Typical of this ensemble's understated virtuoso poise is the dancing trio section of the Brahms's Andantino third movement, in which the tricky little downward arpeggio figurations are thrown off with a nonchalance that keeps everything perfectly in scale. A fitting memorial to a great artist.



JULIAN HAYLOCK