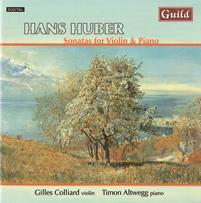 The Strad Issue: January 2011
Description: Swiss performers revel in the high Romanticism of a follower of Brahms and Strauss
Musicians: Gilles Colliard (violin) Timon Altwegg (piano)
Composer: Huber
Gilles Colliard and Timon Altwegg's performances radiate real empathy with the vintage Romantic idiom of these works by their compatriot, Swiss composer Hans Huber (1852–1921). Their account of the early Phantasie has all the requisite muscularity and passion, the solemn opening prelude building gradually to introduce the fiery, extra-musically inspired Allegro. Their poetic lyricism and rich sonorities in the noble slow movement are genuinely moving. Their scherzo, smacking of the finale of Beethoven's 'Kreutzer' Sonata, abounds with light-hearted vitality, some of which spills over into the finale, the power and drama of which increase as it approaches its jubilant, impassioned culmination.
The players maintain a well-judged balance between rhetoric and lyricism in the Fifth and Sixth Sonatas, and subordinate their technical prowess to the music throughout, even during the concertante violin writing of the first movement of no.6. Colliard's contribution is especially alluring and full of contrast and colour, notably in the beautiful Adagio of no.6 and the Brahmsian finales of nos.5 and 6. In moments of passionate intensity his tone his strident and sensuous, but he is never afraid to let his sound melt to a whisper in phrases of quiet reflection, as at the end of no.5. The recording is well balanced with an intimate ambience and an attractive bloom.
ROBIN STOWELL