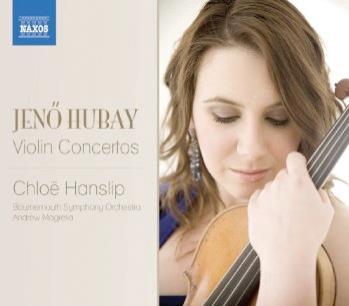 THE STRAD RECOMMENDS
The Strad Issue: January 2009
Musicians: Chloë Hanslip (violin) Bournemouth Symphony Orchestra/Andrew Mogrelia
Composer: Hubay
The explosive virtuosity of these two concertos by Hungarian violinist and composer Hubay are underpinned by beautifully coloured orchestral writing. Chloë Hanslip is on sparkling form, bringing to bear a rich, full tone in the wild romanticising of the opening Allegro appassionnato of the First Concerto, but pulling back at times to allow the light to shine through the texture. Glassy, sometimes almost Debussy-like orchestral meanderings support the gorgeously lyrical theme in the Andante ma non tanto, described with infinite care by Hanslip. The Allegro con brio is full of bravura from soloist and orchestra – passion balanced with elegance of gesture.
Hanslip clearly delights in the acrobatics of the more familiar Scènes de la Csárda nos.3 & 4, both infused with the infectious rhythms of Hungarian folk dance, and executed with brilliance and bell-like transparency.
The Second Concerto inhabits the same late-Romantic territory as the first, though composed 16 years later in 1900. The middle-movement is particularly lovely, and Hanslip luxuriates in its long-limbed phrases; the tripping phrases of the finale are dashed off with intrepid ease. The Bournemouth Symphony Orchestra shows fine attention to details of light and shade under the solid direction of Andrew Mogrelia, and throughout the sound quality is just as it should be – bright and well polished.



Catherine Nelson