The senior faculty member at the Buchmann–Mehta School of Music, Tel Aviv University, Israel gives tips for maximising power and control with minimum effort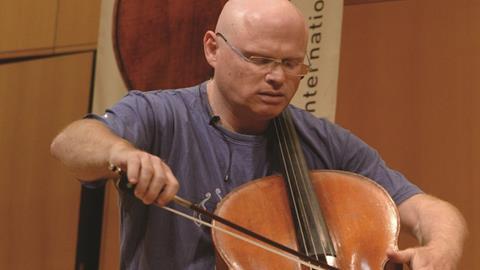 The following article is taken from a larger feature on using the back muscles by cellist Hillel Zori, published in The Strad's January 2017 issue, out now – download on desktop computer or through The Strad App.
Many cellists lack strength in the bow arm and try to increase their sound by using unnecessary force. The cello is not the most powerful of the stringed instruments – it has a low register and its sound does not cut through naturally like that of the violin. To help it to carry, we can build extra strength by using the back muscles and the flexibility of the body to support the movement of the hand and arm. The body can give our playing so much energy: if we use it to follow the bowing motion, it acts as an extension of the arm, making it feel almost as though the bow is moving by itself, without the need for pressure. By using our bodies flexibly, we can rotate the instrument to manipulate the sound and bring the best contact point towards the bow.
Try using your body to bring the bow's contact point into the foremost position for both your hands, by holding the cello lightly between your knees and manipulating it so that the contact point always lines up with the centre of your body. This helps to give the best possible sound with the least amount of effort, without forcing anything to work at the wrong angle.
To begin, lean your cello against your body, with some of your left knee placed under the lower corner, and your right knee resting against the lower bout. Then, without the bow, use your knees and chest to rotate the cello from left to right.
To play on the A string, turn the cello a little to the right by pulling your right knee out to the side. For the D string, swivel the instrument slightly to the left; do this even more for the G, and more again for the C, gradually pushing your right knee behind the cello and your left knee out to the side. Follow the movement with your body.
Make sure that the movement is always under control and never abrupt, and that the instrument neck slides freely within your left hand.
Watch Hillel Zori demonstrating cello rotation while playing below:
To read the full article by Hillel Zori, including detailed technical exercises and further video demonstrations, download The Strad's January 2017 issue on desktop computer or through The Strad App.