In the face of constant salary reductions and economic gloom, do orchestral musicians have the right to say 'enough is enough', asks Charlotte Smith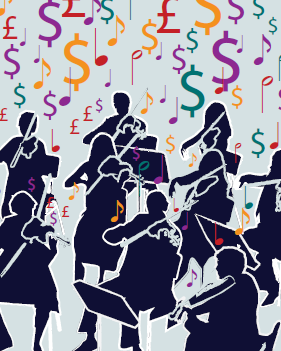 What is the value of an orchestral musician? The headlines of the past few years suggest a marked downward trend. Various high-profile salary disputes, particularly in the US, have highlighted endless pay cuts and staff reductions. One could hardly ignore the Minnesota Orchestra's long-running dispute – a titanic struggle between musicians and management, which lost the ensemble an entire season of performances and very nearly its chief conductor. In recent months there have been bitter spats, too, at the Atlanta Symphony and New York's Metropolitan Opera, and in October the musicians of the Memphis Symphony reluctantly accepted a 38 per cent pay cut.
Such rows often give the impression of greedy musicians stubbornly fighting to maintain an unrealistic lifestyle. Like it or not, classical music is no longer a dominant force; to see the real musical movers and shakers of the 21st century, look no further than Katy Perry, Pharrell Williams and Beyoncé. And there are plenty of industries where workers must accept lower pay as an inevitable consequence of capitalistic tides.
Indeed, from a British perspective, sympathy for American musicians might justifiably be in short supply. At the Los Angeles Philharmonic, the base salary amounts to $148,720 (£92,250), while St Louis Symphony musicians take home $81,892 (£50,798). Given that the average wage at the BBC and City of Birmingham symphony orchestras amounts to around £30,000 ($50,900), it's tempting to wonder what all the fuss was about in Minnesota – where an agreement was finally made to reduce base salaries from $107,666 (£68,197) to $96,824 (£61,330) in year one, $99,008 (£62,717) in year two and $102,284 (£63,435) in year three.
Yet the plea of the Minnesota musicians does have merit. Reducing salaries by too much would reflect negatively on the status of the orchestra. An oft-repeated argument of the players' union was that cutting salaries to levels below those of the top ten American orchestras would diminish Minnesota's chances of attracting top-level members: if the orchestra was already struggling to attract donations and sell tickets, risking the quality of its music making could not be justified. More recently in Atlanta, where management proposed reducing the number of musicians (thankfully a decision which has now been reversed), a lesser playing force might present an even more potent symbol of diminished capacity.
The problem is, if an arts institution is run as a business, it must accept that cardinal rule of commerce – that a service or product can only be worth what the public is willing to pay. Orchestras in the US receive little to no public funding, an unenviable position when compared to their government subsidised European counterparts. So while the American system can pay inflated wages in a strong economic climate, in tough times there is no protection at all.
Where the European model differs, then, is to attribute an intrinsic value to the arts quite apart from popularity and market share. By subsidising orchestras, governments in Britain, Germany and the like acknowledge that musicians provide a fundamental service, even in a recession. It's no coincidence that orchestras throughout the world provide much-lauded programmes of outreach. For all the years of practice and the antisocial hours – each in themselves good, practical reasons to demand a fair wage – it's the ability of musicians to enrich the lives of their audiences that is really priceless. The systematic undermining of especially the mid-range orchestras carries with it the very great risk that smaller communities may one day be without a local orchestra. And it is the right of all – not just those in the capitals – to experience wonderful symphonic playing.
Of course, European ensembles are by no means immune from economic downturn. Northern Ireland's Ulster Orchestra is suffering from a reduction in government subsidy and the recently dismissed musicians of the Rome Opera (again, a decision which has now been reversed) faced the prospect of reapplying for their posts as freelancers – an all too common trick to avoid paying full benefits. But that principle of music's intrinsic value does at least hold in Europe for the time being, and as long as it does, orchestral musicians can never be entirely undersold.
Subscribe to The Strad or download our digital edition as part of a 30-day free trial. To purchase single issues click here.