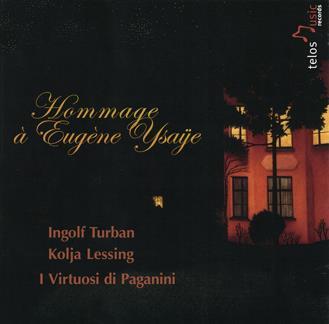 The Strad Issue: January 2008
Musicians: Ingolf Turban (violin) Kolja Lessing (violin/piano) I virtuosi di Paganini
Composer: Ysaÿe
The six unaccompanied sonatas which Ysaÿe dedicated to violinist friends form the backbone of this interesting compilation, which marks the 150th anniversary of the composer's birth. They alternate with piano-accompanied pieces and Ysaÿe's monumental Sonata for two violins. Ingolf Turban, former leader of the Munich Philharmonic Orchestra and now professor at the Munich Hochschule, has made a speciality of the virtuosic byways of the violin repertoire. His discography accordingly includes the complete concertos of Paganini alongside virtuoso showpieces by the great masters of the past, and he has himself concocted a few of his own.
Turban is well up to Ysaÿe's technical demands, which are as many-faceted as the man himself was. The seldom heard Variations sur le 24e Caprice de Paganini are wittily delivered. Turban may lack the dare-devil bravado of Ruggiero Ricci in his live recording, but he finds more in the piece and is better recorded. Ysaÿe the virtuoso transcriber is represented by the popular Caprice d'après l'étude en forme de Valse.
In the Sonatas, Turban lays out the polyphony with commendable clarity, taking runs in fingered octaves nonchalantly in his stride. Ysaÿe wrote his sonata for two violins for his friend, Queen Elisabeth of Belgium, who on this showing must have been a violinist of considerable means. The piece demonstrates yet again the composer's ear for refined sonorities, managing to sound like a whole string ensemble. It also brings Kolja Lessing into the limelight, who after being the unashamed accompanist at the piano, picks up the violin for this far from easy piece. Both Turban and Lessing contribute their views on Ysaÿe in the informative booklet notes. I Virtuosi di Paganini, an ensemble made up of Turban's students, round off the recital with the intriguing Exil! (for string orchestra without cellos and basses), written while Ysaÿe was living in Cincinnati.
Carlos María Solare