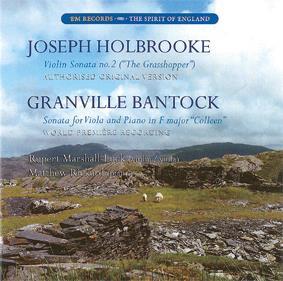 The Strad Issue: January 2012
Description: Two sonatas that mine the seam of early 20th-century English Romanticism
Musicians: Rupert Marshall-Luck (violin/viola) Matthew Rickard (piano)
Composer: Holbrooke, Bantock
Joseph Holbrooke's 'Grasshopper' of 1917, which exists as both violin concerto and sonata, has a confusing history, and in unearthing different elements of the story behind it, the note-writers for this and Karenza Peacock's recording for Naxos (reviewed last November) could do with pooling their discoveries. Where Peacock chose to record the concerto version with piano, Rupert Marshall-Luck has made his own edition of the sonata, having corrected the printed version from study of the original Ricordi proofs. Although this version supposedly simplifies some of the more concerto-like writing, it still sounds fiendish enough, with its frequent double-stops and flighty figuration, and there are moments when Marshall-Luck's playing sounds a little on edge, though on balance he and pianist Matthew Rickard paradoxically bring out greater character in the music than the more tonally secure Peacock.
Granville Bantock's Viola Sonata, receiving its first recording, is a weightier work from two years after the Holbrooke. Playing a slightly wiry-toned viola that belonged to Gustav Holst (the instrument's maker is not stated), Marshall-Luck weaves his way through its lyrical lines with admirable poise and melodic shapeliness, and he brings an ideal vivacity to its Irish jig of a finale. Both works are well recorded, though there is something of an empty concert hall in the reverberation.
Matthew Rye