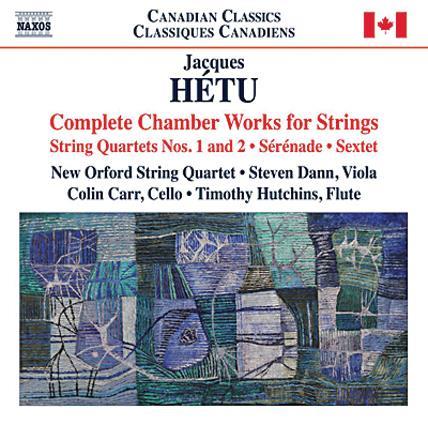 The Strad Issue: June 2015
Description: Chamber works by a French-trained Canadian composer
Musicians: New Orford Quartet, Steven Dann (viola) Colin Carr (cello) Timothy Hutchins (flute)
Composer: Hétu
This vividly recorded CD gathers the complete chamber music for strings – spanning almost half a century – of Canadian composer Jacques Hétu (1938–2010). Already in the early Adagio and Rondo, written on graduating from the Montreal Conservatoire in 1960, Hétu shows a sharp ear for string sonorities, not to mention a sure command of texture and part-writing. As the insightful booklet notes – written by the New Orford Quartet's violist, Eric Nowlin – point out, this early composition contains elements that will continue to feature in all its successors up to the Sextet of 2004.
After working with Lukas Foss at Tanglewood in 1959, Hétu spent three years in Paris studying with Dutilleux and Messiaen (1961–3). While these influences are indeed detectable, Hétu developed a very personal language of a neo-romantic hue that remained in touch with traditional forms (a unison fanfare seems to be a favourite opening gambit). Hétu's music is player-friendly to a degree, be it in the light-hearted atmosphere of the Shakespeare-inspired Sérénade with flute, the fugal climax of the First Quartet or the constantly changing textures of the Sextet's variations. The New Orford Quartet and guests seize their numerous individual and collective chances to shine with evident relish and gratitude.
CARLOS MARÁA SOLARE