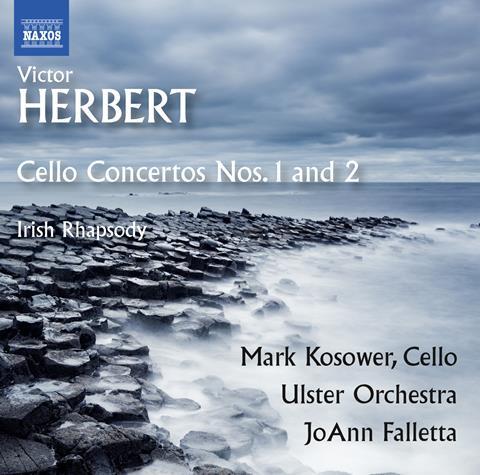 The Strad Issue: July 2016
Description: Cleveland cellist plays concertos by the man who inspired Dvorák
Musicians: Mark Kosower (cello) Ulster Orchestra/JoAnn Falletta
Composer: Herbert
Catalogue number: NAXOS 8.573517
In the audience at the New York premiere of Victor Herbert's Second Cello Concerto in March 1894 was none other than Antonín Dvorák, director of the National Conservatory of Music, where Herbert was a teacher. Dvorák declared himself amazed at how well the solo cello could be set against a large orchestra and by February the following year had completed his own Cello Concerto.
One certainly feels the affinity between the two works, from the minor tonality to the return of the slow movement theme in the finale. Kosower, principal cellist of the Cleveland Orchestra, brings dramatic presence to Herbert's foreboding opening cello melody over tremolo strings and plays the broad, singing slow movement theme with moving eloquence, though his tone sometimes lacks fullness. Both this concerto and the First (1884) culminate with high, virtuosic cross-string passagework and rapidly ascending scales, which Kosower executes neatly, though the music cannot escape from feeling rather empty.
Irish-born cellist and conductor Herbert was the soloist in both the Second's premiere and that of the First, an altogether more lightweight work, more in the vein of Herbert's popular operettas. There is little scope for interpretative depth for Kosower but he plays cleanly and lyrically in this well-balanced, clear recording.
Janet Banks