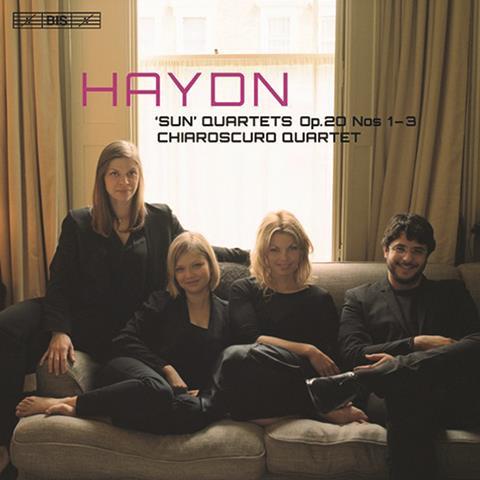 THE STRAD RECOMMENDS
The Strad Issue: October 2016
Description: Ibragimova and friends rise to three of Haydn's 'Sun' Quartets
Musicians: Chiaroscuro Quartet
Composer: Joseph Hadyn
Catalogue number: BIS 2158 (SACD)
The Chiaroscuro Quartet lives up to its name in these imaginative, flexible accounts of the first three of Haydn's six 'Sun' Quartets, introducing a wide range of dynamic nuances and strong contrasts of light and shade. With tempos, blend and balance finely judged, these are period-instrument performances of the utmost subtlety and refinement, conveyed with technical assurance in an easy-going, conversational manner and captured in exemplary fashion by BIS's recording team.
These players bring an ideal warmth and lyricism to the opening movement of op.20 no.1 and a contrasting urgency and energy to its finale and the outer movements of no.3. Especially outstanding is their account of no.3's Poco adagio, in which the expressive, meandering exchanges between cellist Claire Thirion and first violinist Alina Ibragimova create a remarkable cumulative tension.
Ibragimova negotiates the high tessitura of no.2's tranquil Minuet with a relaxed tenderness and interprets the same work's dramatic Capriccio, an operatic scena without words, with rare understanding and communicative flair. She is well supported throughout by her colleagues, not least in the crisply articulated fugal finale of no.2, in which they bring a unanimous sense of timing to structural cruxes, the malleable Minuet of no.3 and in the counterpoint and striking harmonic effects of no.3's finale. Bring on the sequel!
Robin Stowell